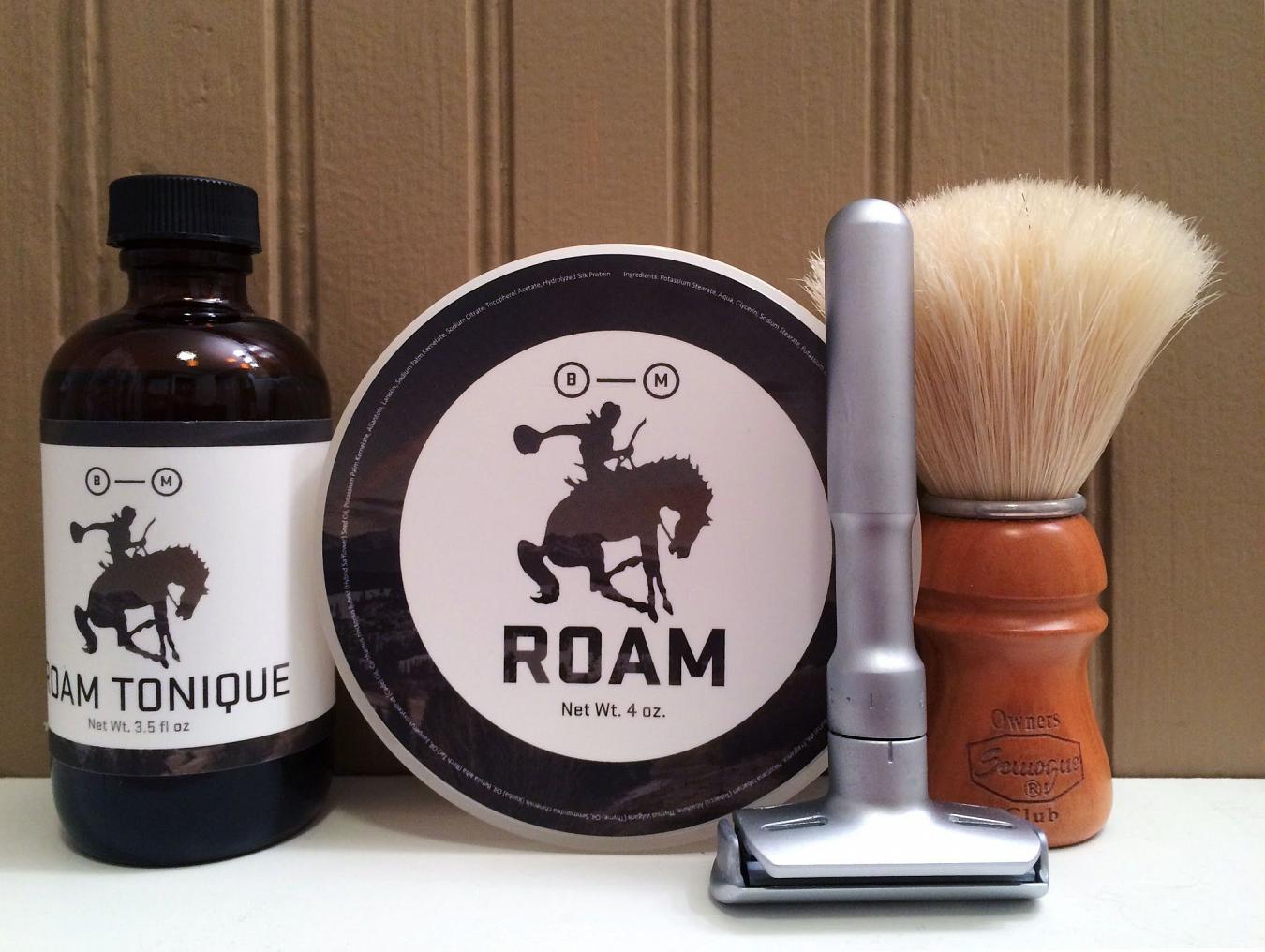 Today's SOTD by way of the controversial #soap and #aftershave combo that is Barrister and Mann Roam!
I'll start off by saying that I won't review the performance of either the soap's glissant formulation or aftershave... There's not too much to say except it's nearly perfection. I'd suggest taking a look at my recent review of Adagio or review of Cologne Russe for more on that front.
That said, I will just say that I hadn't shaved for essentially 96 hours over the long 4th of July weekend, and for the last 24 had my skin and whiskers pickling in Hawaiian Tropic Dark Tanning Oil before this morning's shower n' shave. The combo of the oil and the software today along with the ruthless efficiency of the #Merkur #Futur razor (with a #Feather blade on shave four or five)... Has left my face feeling insanely moisturized, soft and supple with BBS written all over it. Divine!
So let's talk about the scent... As I alluded to in the open, it's a "controversial" or perhaps "polarizing" scent. It's one of those love/hate reactions that some of the heavier B&M scents can foster. In fact, some have taken to calling it "motherfucking roam." Personally, I love it. I think two problems are that people either don't actually lather the soap - or go by the initial whiff off the bottle, and not letting the scent dry down. Both will be terribly misleading at best.
So what does it smell like? Officially, it is described thusly:
Inspired by the rugged individualism of American cattle ranchers, we blended the aromas of real pipe tobacco absolute, smoke, leather, herbs, damp earth, and grass into a bright, robust scent reminiscent of life on the open range. Timeless and virile, Roam harkens back to the days of the Old West.
...With which I wholeheartedly agree. There's definitely a manly, smoky vibe coming from Roam with the notes of smoke and leather dominating, but with an underlying earthy, green hit. Like most #BarristerMann scents, it's layered and blended extremely well and just combines masterfully. The herbs are more to round things out. A complex scent that evokes all that is Wild West Man.
Sadly, because some dudes tend to be dicks about things (and bitch about Roam in uncivil ways)... Will @ B&M has decided it's just not worthwhile to produce it again. So thanks for that - you know who you are. The last pre-sale in March (see: http://tinyurl.com/zo5fq6l) was the last call for this combo.
To conclude... This is manly stuff. It may turn some people off. That's fine. Keep your attitude to yourself and sell it on. No biggie. My wife can't stand it on the open, but doesn't mind it on the dry down. Me, I love it. So I wear it proudly! Sadly, for those that missed out - you'll have to keep an eye out in the for sale postings for your chance.