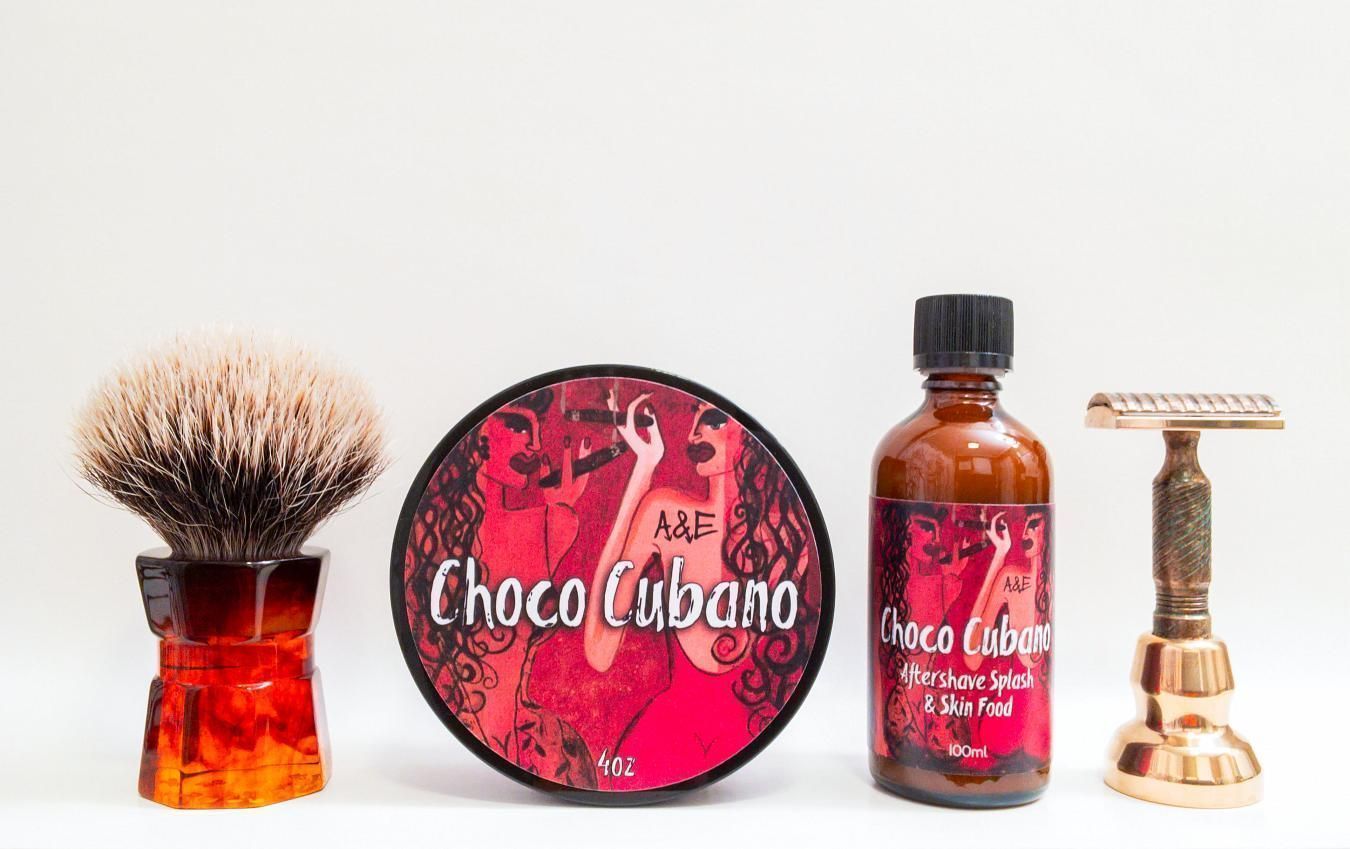 Shaving Product Review - Ariana & Evans "Choco Cubano"


Value (Cost, Packaging and Performance)
Lather (Density, Glide and Feel)
Post-shave (Healing, Moisture and Feel)
Scent (Quality, Strength and Longevity)
Each bar has three metrics, each representing 33% of the total (11% = below-avg, 22% = avg, 33% = above-avg, except cost)
Chocolate and tobacco... Amiright?! Trying out the Ariana & Evans Choco Cubano offering in a #soap and #aftershave today!
Another #ArianaEvans product today - for a background, check out the appropriately named article; What is Ariana & Evans? Check out my earlier reviews of L'Orange Verte, Asian Plum, Khalifa, NYC, Vanille de Tabac and St. Barts for much more info.
The artwork, branding and packaging are excellent. If the name didn't quite give it away, the artwork definitely should... It's a Cuban cigar inspired scent. It was released on August 25, 2018 at the NYC launch party.
The Choco Cubano scent has notes of bergamot, tangerine, vanilla, fig, chocolate truffle, incense, cedar, sandalwood and tobacco. A lot more complex than you might be lead to believe - by the name, if nothing else. While the notes standing out most are in fact chocolate and tobacco, the other notes serve to add some depth and complexity.
The citrusy bergamot and tangerine open with, and give the chocolate a bit of an orange twist; a popular confection actually. The vanilla adds warmth and creaminess to it while the fig sweetens things up a bit - presenting overall as more of a milk chocolate than a more bitter dark chocolate or cocoa (e.g. Oleo Soapworks Seibo or especially Xocolātl). On the backside, you've got the incense, cedar and sandalwood to add variety to the tobacco, manning it all up - forming the base around tobacco, and what lingers post dry down.
Scent strength is strong in both the soap and aftershave. In case of the latter, it tones down fairly quickly, as it progresses from the chocolate to the tobacco side of the fragrance. It goes from a sort of semi-gourmand to a more spicy, woodsy tobacco. Projection and sillage share a similar curve while longevity is about 4+ hours. How would I rate it overall? I would call this a unique, interesting fragrance - I like it. It's similar in vein to, say, Tom Ford Tobacco Vanille or the artisan's own, similarly inspired scent - Vanille de Tabac. Both obviously leaning towards vanilla rather than chocolate; this is like yang to the yin.
Hardware consisted of the #TimelessRazor #TRBR38 in bronze with a #PolSilver blade on shave four. The brush is an underrated piece from #Yaqi called Moka Express with a 26mm two-band badger knot. The #GTP scuttle brings up the rear... But you knew that already.
Really nice scent on this one, guys. While it's admittedly a little gourmand, that's mostly in the top half of the scent - and who doesn't love chocolate? The second half brings it home for the dry down with a spicy, woodsy tobacco base. The performance is well understood for these bases - great. The value is also there, considering the price.