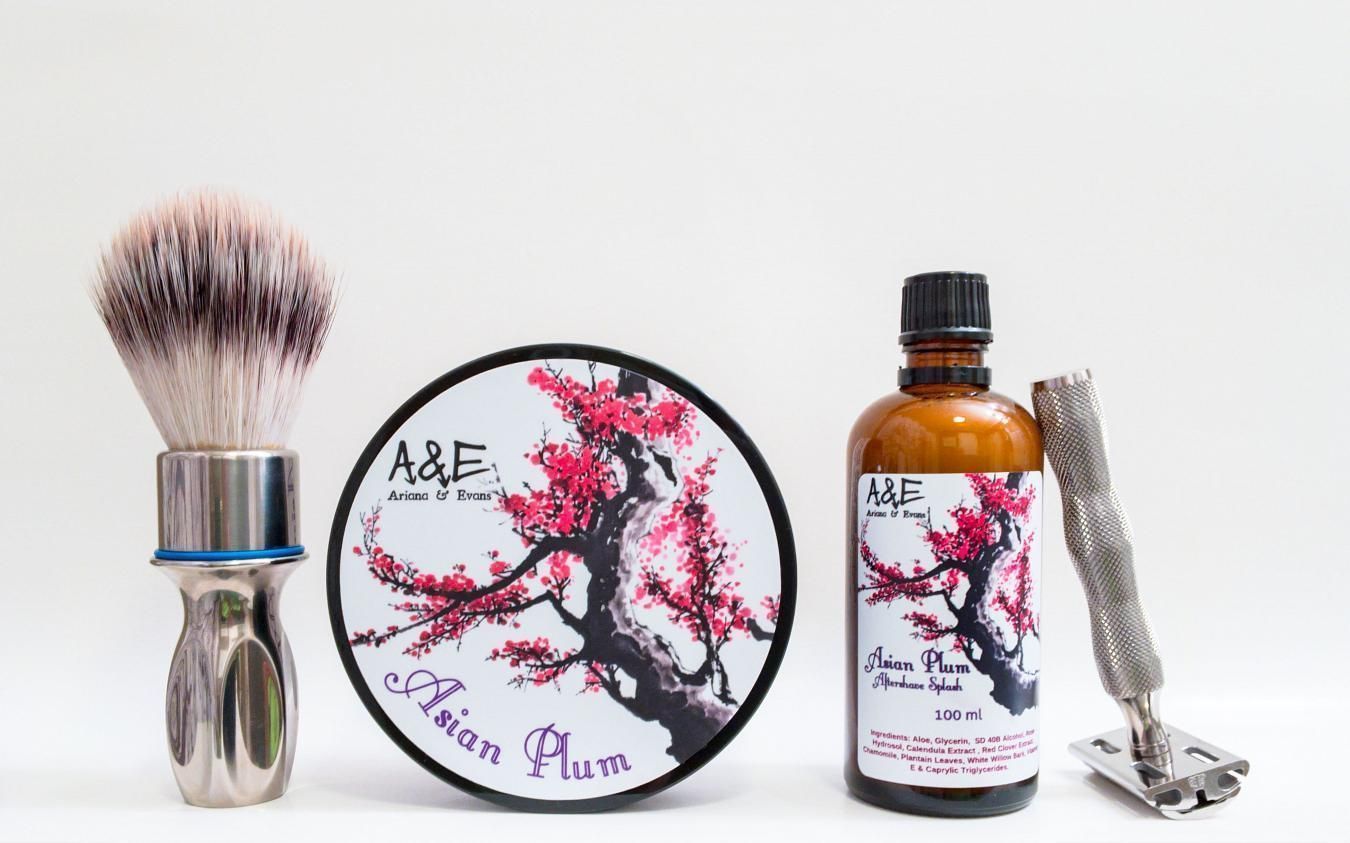 Shaving Product Review - Ariana & Evans "Asian Plum"


Value (Cost, Packaging and Performance)
Lather (Density, Glide and Feel)
Post-shave (Healing, Moisture and Feel)
Scent (Quality, Strength and Longevity)
Each bar has three metrics, each representing 33% of the total (11% = below-avg, 22% = avg, 33% = above-avg, except cost)
Another well-performing offering in an intoxicating scent by Ariana & Evans called Asian Plum in a #soap and #aftershave.
For a background on Ariana & Evans check out the appropriately named article; What is Ariana & Evans? After my earlier review of L'Orange Verte - I'm giving Asian Plum a run today. Definitely check out the previous review for more info. As with that one, the artwork, branding and packaging are also excellent.
The scent is primarily plum-forward but with a twist. It features notes of plum, dried fruits, tobacco, tonka bean, coffee, vanilla and a touch of plumeria. If that sounds at all familiar (unlikely), it's inspired by (and not a clone) of Calani Seifenmanufaktur (based in Germany) Oriental Plum. It's expensive enough to ship internationally, nevermind that it's perpetually out of stock (read: no longer made) - as it was produced for the Gut-Rasiert forum (also in Germany). So it's essentially unobtainium.
Not having the original to compare to, I cannot say whether #ArianaEvans Asian Plum is close in scent, but we know it's not a clone anyway. At any rate, the scent is very nice! It's definitely plum-forward with some dried fruit notes to keep it fruity... But thankfully, it's not cloying or overly gourmand. The tobacco adds a bit of a twangy overtone, which is balanced nicely with the sweet tonka bean (essentially vanilla) and warm, creamy regular vanilla. The coffee adds a different dimension, reducing the overall fruitiness further and as a note - stands out a bit.
The scent of Asian Plum is lovely, and fairly unique to other shaving software I've used; you don't find plum too often out there, let alone with the particular supporting notes in this accord. Plus, I love anything with vanilla! Both the soap and aftershave scent strengths are medium with the former blossoming a bit when lathered. I could smell it easily for the duration of the shave. The aftershave has a light sillage, but a good duration at 6+ hours.
The performance of the soap lived up to the hype, I must say. Loading was fairly easy, rather reminiscent of Declaration Grooming soaps. Once loaded, the soap lathered up very easily in the #GTP scuttle. The lather is thick and creamy, with very good primary and secondary slickness - and resulted in very good face feel. Just for the sake of completeness, the ingredients of the soap are:
Stearic acid, tallow, goat milk, shea butter, potassium hydroxide, kokum butter, glycerin, sodium hydroxide, mango butter, cocoa butter, coconut oil, avocado oil, castor oil, lanolin, bentonite clay, sodium lactate, beeswax and fragrance/essential oils.
And now the ingredients of the aftershave (missing from my initial review of L'Orange Verte):
Aloe vera juice, vegetable glycerin, SD Alcohol 40B, rose hydrosol, calendula extract, red clover extract, chamomile, plantain leaves, white willow bark, vitamin E and caprylic triglycerides (combination of plant sugars and fatty acids derived from palm and coconut oils for silkier feel and as a natural preservative).
The aftershave performance was very nice. Despite containing alcohol, it has a fairly mild bite. A lot of the ingredients come from the artisan's serums, which were added to the aftershaves by popular demand. In the context of the soap as a combo, both products performed above their price point(s). The soap goes for $16.99 and the aftershave $18.50... Not bad at all, earning them strong value for the money.
The hardware consisted of a "mild version" #TimelessRazor with a fresh #PolSilver blade. I usually have a different #Stork handle on it - but today I'm debuting one I've finally gotten a hold of (and always wanted)... The titanium RWD/Ti model. It's almost always out of stock and hasn't been available for 6-12 months now (which I have been keeping an eye out for)... Making it practically unobtainium as well. It's 90mm long and weighs 50g. I find the full-sized, yet lightweight titanium handles to work very well with these heads. This one looks like a beast, and certainly is larger in circumference (some 15-17mm total) than the stock handle options - and as a result, larger than most stands allow for. I'll have to make a custom one myself I guess. The design is essentially a fully knurled "bamboo" handle and has insane grip, as you might imagine. The brush is an equally polished #BSB Shaving Brush sporting a #Mühle XL Silvertip Fibre (synthetic) knot in 25mm. The #GTP scuttle rounds out the hardware today.
Another very pleasant shave with Ariana & Evans soap, bolstered by the matching aftershave. Performing above their price points, it's an excellent value - the soap is up there with say, Wholly Kaw (but not quite Declaration Grooming) in its ranking. The aftershave is similarly high quality, but not up to Barrister and Mann or Chatillon Lux standards. Regardless, I find these Ariana & Evans offerings in the (increasingly crowded) top tier. Finally, the scent of Asian Plum is quite lovely.