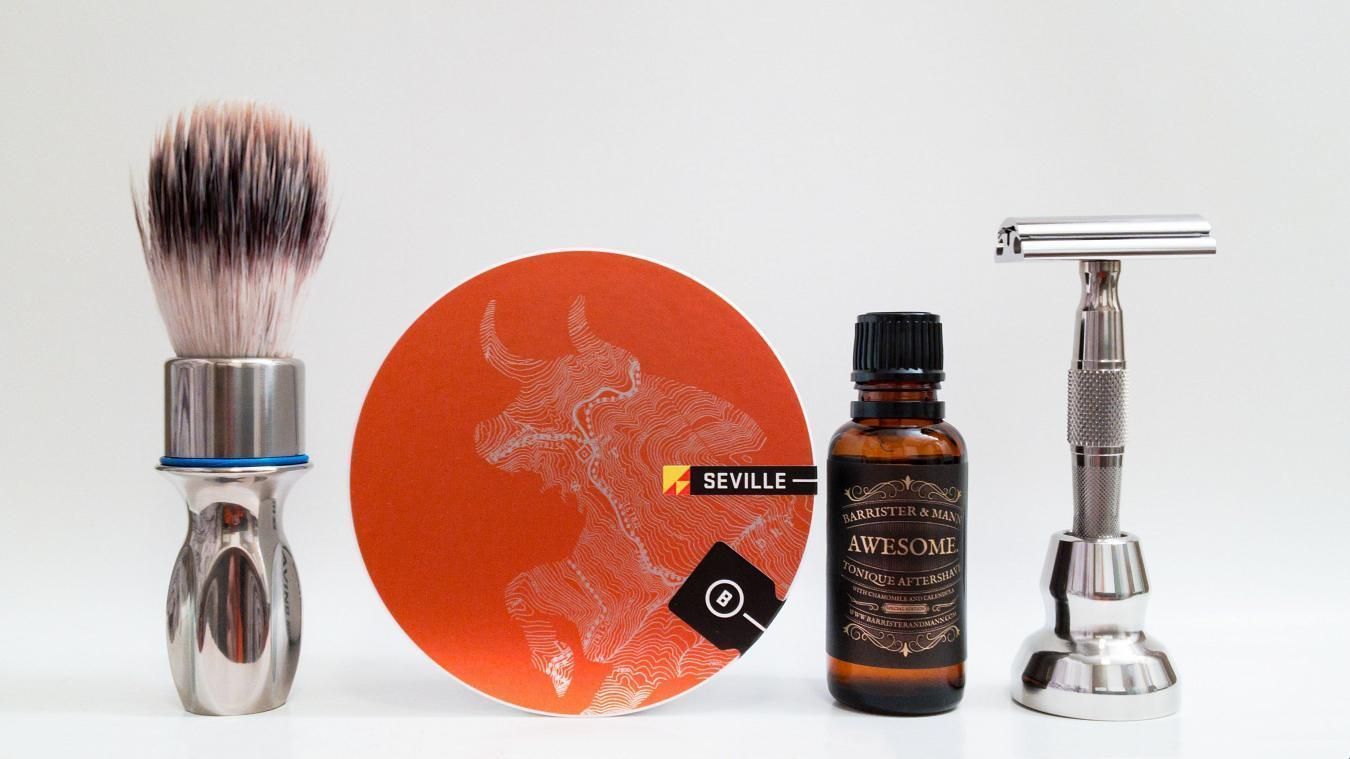 Shaving Product Review - Barrister and Mann "Seville" & "Awesome"


Value (Cost, Packaging and Performance)
Lather (Density, Glide and Feel)
Post-shave (Healing, Moisture and Feel)
Scent (Quality, Strength and Longevity)
Each bar has three metrics, each representing 33% of the total (11% = below-avg, 22% = avg, 33% = above-avg, except cost)
In honor of the pending release of Barrister and Mann Seville #aftershave - I used the #soap today, with Awesome standing in, for now.
Everyone has a different idea of what a barbershop ought to smell like, but we tend to lean historically for this kind of stuff. Giovanni Maria Farina famously created the very first Eau de Cologne in the early 1700s, and it was an instant success. His formula was prized by the royal courts, and was so highly regarded that it's still in production today. As a result of this popularity, Eau de Cologne fragrances have been staples in European barbershops for well over a hundred years. While we don't claim to be as gifted as Signor Farina, our Seville scent is definitely in a class all its own. Affectionately dubbed "God's barbershop" by some of our more poetic customers. The name comes from the famous opera The Barber of Seville, but the scent is at home anywhere.
Coming on July 7, 2017 is the long awaited re-release of the Seville aftershave (along with Bay Rum and Cheshire). It hasn't been available since 2015, and then only in the Kyovu formula (which was discontinued as it got too expensive to produce). This time it's coming back in the Tonique formula. As a soap, Seville has been around since March 2013 (so basically forever). It wasn't until just recently that I finally grabbed my tub; I like combos (soap and aftershave) so I always held off. As a bonus, I got it with the new packaging and in the Glissant formula.
Seville has notes of lemon, bergamot, rosemary, lavender, patchouli and oakmoss. To the nose, it definitely has that "barbershop" vibe to it. The citrus on top weaves together with the herbaceous and floral middle while you get hints of the base, patchouli and oakmoss. All classic notes of a "barbershop" accord, and used in similar offerings by many artisans and commercial entities. This version is fairly unique unto itself however, and of course - offers the classic #BarristerMann performance in a soap (and soon, aftershave). The performance of the soap was typical of all Glissant soap reviews - that is to say, top notch all the way.
Almost a year ago, I did a review of Awesome so I won't repeat it here. Scent-wise, it has notes of notes of bergamot, coumarin, jasmine, rose, cassia leaf, patchouli and civet and performance-wise, it's typical of Tonique. It's a unique scent, and a shame it won't see a regular release. It's more for fragrance heads in terms of the scent, and promotional use (as evidenced by the tiny bottles) in general. Yes, it smells "awesome" but while the scent is potent enough, the longevity is fairly mediocre. Performance-wise, Tonique is more more healing than most, but doesn't quite attain the level of moisturization as some products today. Either way, the face feel is great.
Hardware was exactly the same as yesterday's shave and with pretty much the same feelings... All around awesomeness. To recap, it's the #TimelessRazor with a .68 gap smooth solid bar base and top cap, #Stork EX3 handle in titanium and a #PolSilver blade on shave two. The #BSB Shaving Brush whipped up the lather in the #GTP scuttle, which also kept it nice and warm.
I'm really looking forward to this trio of B&M classics coming back in aftershave form! It was a bit of a surprise announcement and snuck into that July 7, 2017 release at the last minute. We know the scents as they've been around for ages, and we know the performance as well. What's not to love?