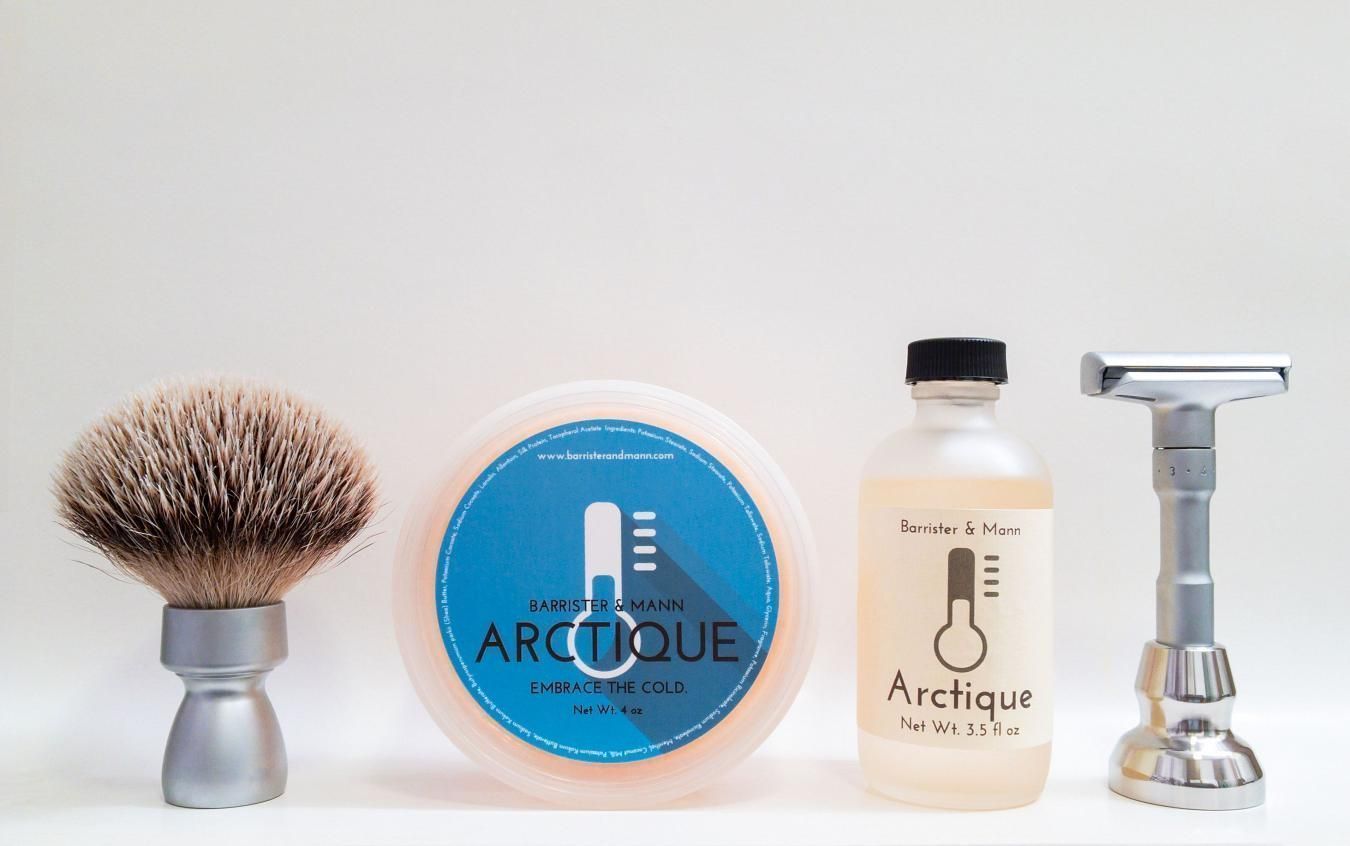 Value (Cost, Packaging and Performance)
Lather (Density, Glide and Feel)
Post-shave (Healing, Moisture and Feel)
Scent (Quality, Strength and Longevity)
Each bar has three metrics, each representing 33% of the total (11% = below-avg, 22% = avg, 33% = above-avg, except cost)
A classic summer seasonal release (since 2014 and Still Awesome) is Barrister and Mann Arctique in a #soap and #aftershave!
Warning: Extremely cold. Do not allow to come into contact with eyes, mucous membranes, volcanoes or the sun. If Arctique comes into contact with any of these areas, flush with warm water and prepare for the oncoming ice age.
The above is the older description, while the one below is the newer:
We blend our lovely floral/black pepper base with Japanese Peppermint and enough menthol to make even the most hardened skin prickle in fear. The goal was to create one of the coldest products on Earth, the kind of stuff that separates the hobbyists from the seriously dedicated. We're proud to say that we were successful. It is devastating. It is unbelievable. It is horribly, hatefully, bone-chillingly cold.

It is Arctique. And it is indifferent to your suffering.
...While the original "warning" style description morphed into it's own section:
WARNING: ARCTIQUE IS EXTREMELY COLD. PLEASE BE ADVISED THAT, BY CHOOSING TO PURCHASE THIS SOAP OR AFTERSHAVE, YOU AGREE TO INDEMNIFY BARRISTER AND MANN AND HOLD US FREE OF LIABILITY FOR ANY FROSTBITE, POLAR VORTEXES, OR STAR DEATH THAT MAY RESULT FROM YOUR USE OF THESE PRODUCTS. YOU HAVE BEEN WARNED.
A the lead paragraph says and according to the History of Barrister and Mann - Arctique has been around since July 2014. The set you see here is from 2015, while it was released (in a Glissant base) again in 2016 and 2017. It took a year off in 2018. Oddly enough, it's not software that Will uses, who made it simply for the menthol fans.
Like I said, I actually got the Arctique set you see pictured above back on July 21, 2015, after which I posted a first impression of Arctique followed by the first reviews here and here. So many things have improved since then; strangely, the apparent chill of this software, the competitive menthol landscape - and the quality of my reviews...
I picked up a spare set (because Glissant baby!) either on May 25, 2016 or July 7, 2017... I don't remember which offhand. Like these latter sets, this one from 2015 was also new and improved over the original from the early days of Barrister and Mann where I explained:
First, what's new here? More menthol and a switch to a tallow, rather than vegan base for the soap... Which is produced in small batches yearly. This year's run was 150 tubs and went on sale July 21, 2015 - selling out on July 23!
A brief word about the scent... There really isn't one, but notes include a floral/black pepper and with Japanese peppermint. Don't kid yourself... You won't smell any of that and the peppermint merely boosts the chill - save for maybe a little on dry down. I followed up with #Geirness as it's a nice, fitting scent (it's from Norway, after all).
So that's the long and storied history of #BarristerMann Arctique. How does this old stuff fare in today's world? For an equally dated but still relevant comparison, check out #MentholWeek where it goes up against Chiseled Face Cryogen, Phoenix Artisan Accoutrements Frost Byte and Queen Charlotte Soaps Vostok. Of course, since then we've lost Queen Charlotte Soaps to the sands of time.
When it comes to less chilly, perhaps just mentholated software, there's no shortage... Starting with Barrister and Mann mentholated offerings. There's L&L Grooming Southern Paradise (now Declaration Grooming), Mickey Lee Soapworks Paradise Frost and Dr. Jon's Arctic Hydra... There's even some new tech in town, like The Holy Black Lavender Creeper (which I beta tested) soon to be followed up by Tangerine Creeper which use a compound called Koolada. All the chill of menthol without the crying.
Hardware for today consisted of the #Merkur #Futur with a #PolSilver blade on shave two, a sweet #Yaqi brush with a 24mm silvertip badger knot and the #GTP scuttle.
When you can't avoid the heat, start off frozen! Few options out there provide the chill (and all important performance) like Barrister and Mann Arctique. Fewer still exist that have such a long pedigree. Hopefully it'll be back next year so we can all restock or people new to it can get in on the chill. Something else to think about... With four years of ever-increasing production, how many times have you seen Arctique come up in the BST? Hard to argue with essentially straight up mentholated performance. Good stuff - vive la menthol!