Tallow + Steel should sound familiar to my readers, as I've long sung praise for the brand - in fact, they made my Top & Bottom - Ten Artisans of 2016 (and Top & Bottom - Ten Artisans of 2017) lists... And for good reason. Not long ago, it was announced that the entire lineup of #soap and #aftershave would be reformulated, as well as the scents. Coming on June 7, 2017 you can purchase all five. Here's an in-depth look at all that's new and coming...
First, a word from Ryan of Tallow + Steel...
We've been quietly working on these scents behind the scenes since our original products launched. We wanted a really unique theme and to do something that nobody else was doing. Each new scent is blended using essential oils either sourced from, or native to that specific region. This allows us to really challenge ourselves when creating scents, as not only do we not use fragrance oils or synthetics, we are now limited to essential oils from a certain region. We have also partnered with a charity in each region, and donate 10% of profits from each product to its corresponding charity.

Along with our new soap and aftershave formulas, we are proud of what we have created, and hope the customers enjoy our new products.
So what's new, you ask? Everything. Seriously, every last component of the entire lineup has been reformulated or replaced. This post will detail it all for you guys. I feel I have to mention that I have no affiliation with Ryan or Tallow + Steel. This post was inspired by the fact that it's just a brand with excellent products that I enjoy - and I think you will, too.
The soap was already very good, but was reformulated to make it even better. The old formula was more "traditional" and it remains to be seen how the new one performs, but considering the ingredients - I expect good things. Interesting to note that there are no butters to be found in the new formula... But look closely at what is. That's good stuff. Let's compare the ingredient lists:
The aftershave was very good as well, but was also reformulated... While the ingredient list is similar to the old, it has added floral hydrosols and overall much improved - promising a really nice face feel and lighter than before. It's still essentially water based, but does contain alcohol by way of the witch hazel distillation. No worries, it can still be shipped worldwide. Let's compare the ingredient lists:
Of course, the scents couldn't be left alone either, and the entire line of existing scents were replaced with bolder, better ones:
Of course, all of these reformulated goodies and complex scent offerings had to have the proper presentation... All of the packaging was redone, too. The soap tubs, aftershave bottles and labels - including all of the artwork, as well. Clearly branded, cohesive and colorful (with each product having a unique color scheme), it looks professional all around. The tubs also feature side labels now, so you can distinguish between products that way as well: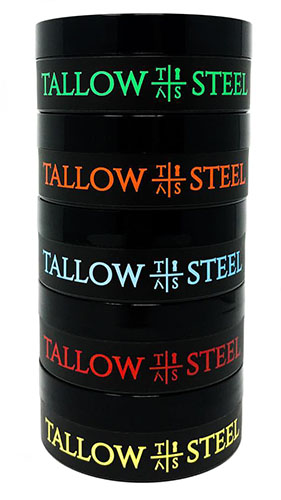 Some artisans tweak a thing here or there... But #tallowandsteel did a complete makeover of literally everything. Having used most all of their products previously, I cannot wait to tear into these new offerings. I don't know about you, but it's looking like I'm good for every single one of them... And if you're of the same mind, we're reassured that there will be multiple discount levels on "collections" as before. Start squirreling away those pennies for June 7, 2017.
But wait, there's more! Check back here soon... ;)
UPDATE (06/05/17):
Also coming are dopp kits in leather and canvas! Here are the details via two Facebook announcements:
Introducing the T+S Leather Dopp Kit. These kits are made using very durable materials and will last several lifetimes with proper care! | handmade in Canada | full-grain, oil-tanned leather | removable waterproof lining | industrial strength polyester thread | brass YKK zipper | lifetime guarantee | available June 7th for $140 CAD / ~$105 USD

We have Dopp Kits! | ultra heavyweight cotton canvas | hand-waxed with beeswax/oil blend | water resistant | vegetable-tanned leather handle | brass YKK zipper | handmade in Canada | Available June 7th in black and grey.
For Canadian retailers (and shipping within) only...
150 - On July 1, Canada celebrates 150 years of Confederation - and we have you covered for that perfect Canada Day shave. Castoreum + Tim Hortons Coffee + Cedarwood + Douglas Fir + Maple Syrup + Alberta Premium 'Dark Horse' Rye.
On July 1, Canada celebrates 150 years of Confederation - and we have you covered for that perfect Canada Day shave.

In 2016, we acquired aged castor sacs from beavers that were trapped in Northwestern Ontario. We used these to create our own tincture of castoreum - which lends a leathery animalic note to perfumes, and has been a valued by perfumers for centuries.

We knew there could never be a true Canadian scent without some forest, so we sourced a douglas fir essential oil from the Rocky Mountains, and a cedarwood essential oil from Eastern Canada.

We created our own coffee oil, using none other than Tim Hortons ® Dark Roast, and to sweeten the blend, added some wild harvested maple syrup from Quebec.

No Canadian blend was complete without the final ingredient: a splash of our favourite Canadian whiskey - Alberta Premium® 'Dark Horse' rye.

The result is a scent that is light, woodsy, herbal and fresh. 150 is the smell of the forest, with subtle coffee and sweet maple notes, and an aromatic leathery musk on the dry down.
Finally, there's a whole new website!
You can find more information in my follow-up to this post in Tallow + Steel 2017 - First Impressions as well as individual scent reviews, as I get to them...