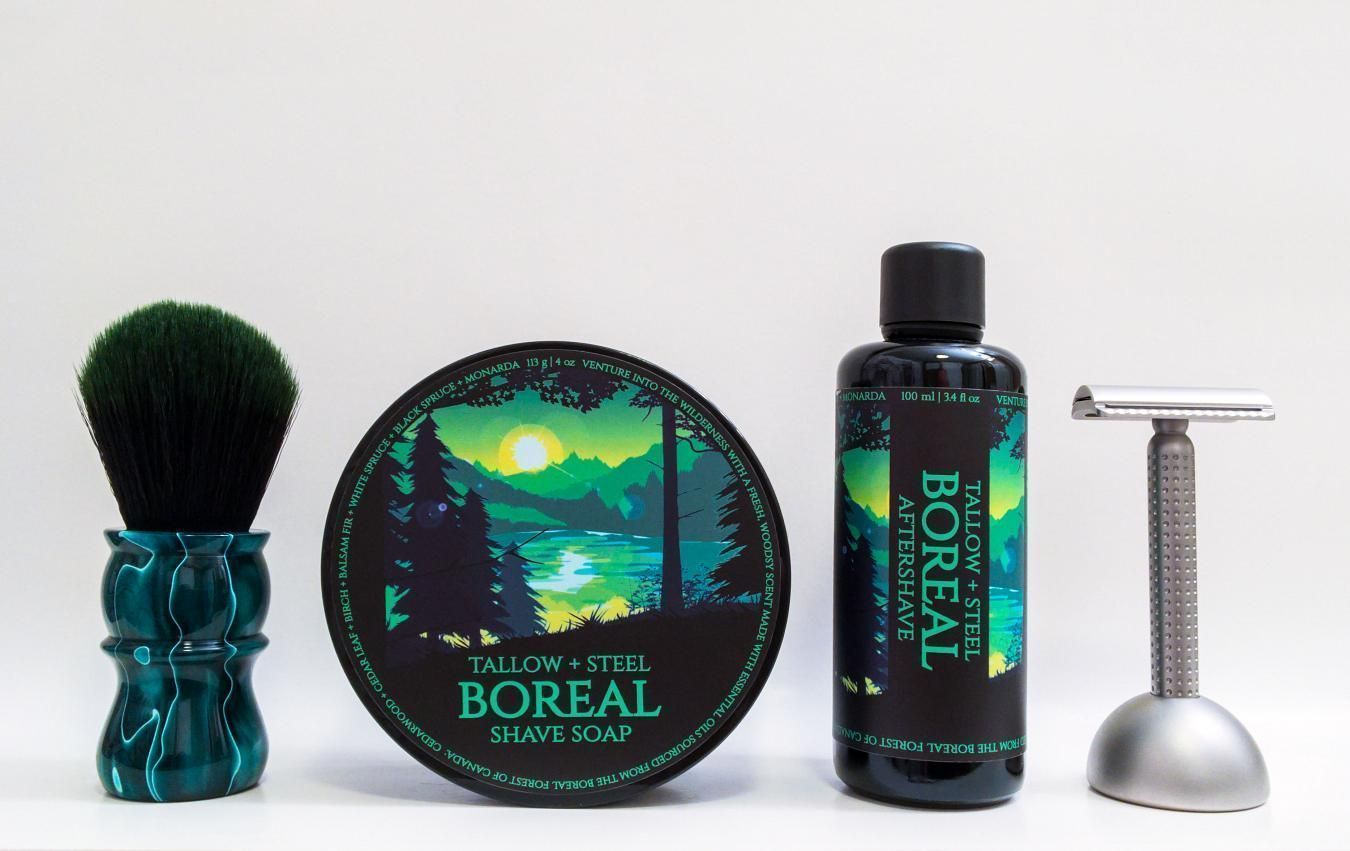 Shaving Product Review - Tallow + Steel "Boreal"


Value (Cost, Packaging and Performance)
Lather (Density, Glide and Feel)
Post-shave (Healing, Moisture and Feel)
Scent (Quality, Strength and Longevity)
Each bar has three metrics, each representing 33% of the total (11% = below-avg, 22% = avg, 33% = above-avg, except cost)
Stepping into an evergreen forest with Tallow + Steel Boreal #soap and #aftershave with a green brush to complete the scene!
The vast expanse of the Canadian wilderness has an unmistakable fragrance to it—nothing compares to the richly wild scent of the forest after rainfall, when the air becomes thick with a mixture of competing smells.

Made from rare essential oils sourced deep from within the Boreal forest of Canada, the resinous woodsy scent of Canadian cedarwood and balsam fir, parallels those of sweet birch, spruce and monarda - a rare fragrant boreal plant.

Boreal captures the crunch of the branch underfoot, the sweet musk of the crisp autumn air: a blast of earthy freshness. This is a blend that puts you in the heart of an ancient forest, no matter where you are.
I've written two very extensive articles on the reboot last year, the first being Meet the All-new Tallow + Steel Products with the follow-up Tallow + Steel 2017 - First Impressions which covers the reformulations and performance (besides other aspects). There's also an in-depth review of Boreal which was also featured in Shave Battle: Let the Fir Fly! so I won't repeat all of that here. Long story short, Boreal is a fantastic forest scent and one of, if not my actual favorite.
Hardware today is the real show. Pictured is the #TataraRazors Masamune razor back with the closed comb baseplate and a fresh #Feather blade for a nice, efficient but totally mellow shave. The brush is a lovely piece from #LeoFrilot, two of four. You can check out blue, red and purple from other shaves, if you're following along. Today's brush is all about the green. Essentially a Tuxedo knot in 24mm but with green instead of white tips. Quite fetching, yes? The #GTP scuttle rounded things out.
I needed something green to match up with the brush, and it doesn't get much greener than this, I suppose! Besides, I haven't used Boreal from #TallowAndSteel in a while... And that's a damned shame.