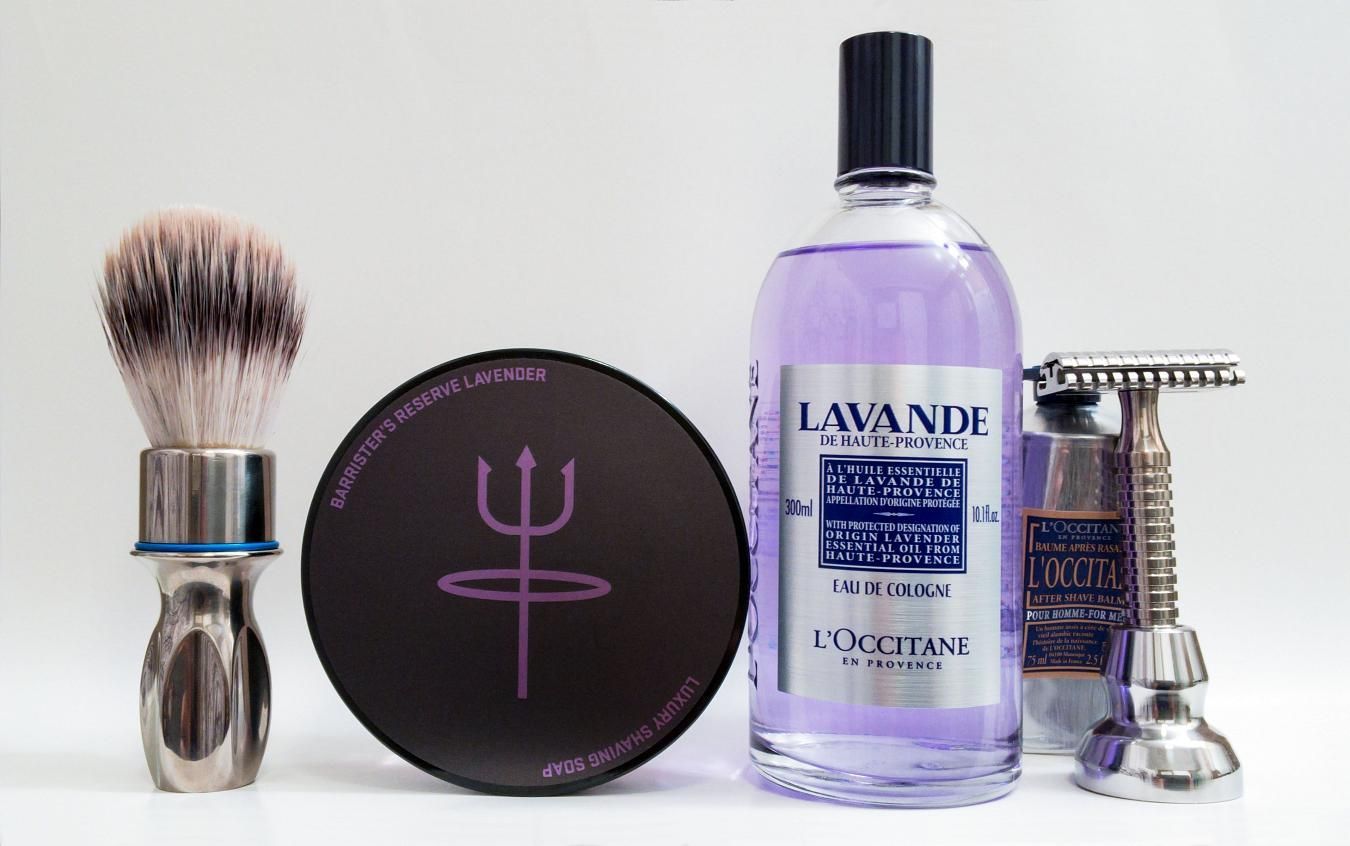 Value (Cost, Packaging and Performance)
Lather (Density, Glide and Feel)
Post-shave (Healing, Moisture and Feel)
Scent (Quality, Strength and Longevity)
Each bar has three metrics, each representing 33% of the total (11% = below-avg, 22% = avg, 33% = above-avg, except cost)
Some best-of-breed lavenders by way of Barrister's Reserve Lavender #soap, L'Occitane en Provence Eau de L'Occitan #balm and #deo with a Lavender #EdC finish!
Barrister's Reserve: Lavender is as smooth as lavender can get. Based on a beautiful aftershave from Wales, this is the scent described by famed perfume critic Luca Turin as "Summer wind made smell" and "the greatest lavender of all time." We definitely agree.
I've reviewed two of the Barrister's Reserve soaps in-depth by #BarristerMann thus far; Spice and Cool - so check those out for details on the performance and characteristics of the soap base. Lavender (and Fern) was released on September 22, 2017 but due to various production issues, the matching aftershave(s) won't be released until October or even November. So I'll briefly talk about the scent, but reserve final judgement until then. As a result, the "Post-shave" chart above is for the L'Occitane en ProvenceEau de L'Occitan balm and the "Scent" chart for L'Occitane en Provence Lavender EdC.
First a little back story on the scent of Barrister's Reserve Lavender - it is a recreation of Caldey Island Lavender by Caldey Abbey Perfumes (a group of Cistercian monks in South Wales). Perfume making on Caldey Island was inspired by the profusion of wild flowers growing there. In the early 1950's bunches of Caldey Island lavender were sold to day visitors, which gave the monks the idea of creating scents using the lavender and other island plants. The scent was launched in 1959 and the fragrance was created by perfumer Hugo Collumbien. It is still produced currently (though a bit hard to get).
Luca Turin is a biophysicist at MIT who originally published a guide to perfumes in French in 1992 and went on to develop an entirely new theory of the sense of smell, based not on the shape of molecules but their vibrations. He wears only Caldey Island Lavender, and calls it "simply the best lavender soliflore on earth."
This is a really good, authentic lavender. It is lovely, fresh, uplifting, aromatic and airy, like the flower. It is also fairly short-lived; something that seems to go with the territory of authentic lavender. This is dealt with by adding imported lavender compounds from Sault, in Southern France - rendering it more robust with the addition of the appropriately named exaltolide, a sweet and powdery, somewhat herbal musk (once collected from the muskrat but now synthesized). Just super smooth.
Since there is no matching aftershave (yet), I went with L'Occitane en Provence Eau de L'Occitan balm, which while lavender based - has strong woods and other notes. I did a full review of the Eau de L'Occitan line if you want to check that out. But I didn't want to stray too far from the base of lavender, so as a final scent for the day I opted instead for #Loccitane Lavender (a.k.a. Lavande) EdC. You get an insane 300ml for $59 USD. It's much more similar to the soap than it is different, described as:
Brightened by the radiant freshness of citrus fruits, the Lavender Eau de Cologne has a light, breezy scent, underlined by a woody, musky base with a captivating trail.
The accord is quite nice in its own right, and pairs extremely well with that from Barrister's Reserve Lavender. It does have a slight woody note to it, but overlooking that... The lavender and musk are spot-on. Sillage is very mild and longevity only medium at four hours. Even the more potent Eau de L'Occitan is somewhat short-lived, though better. All in all, you can freely mix and match any of these products and still be in the same ballpark.
Hardware came down to the #TimelessRazor "aggressive edition" with a custom RazoRock Halo handle in titanium with a #PolSilver blade on shave two. The #BSB Shaving Brush did the needful in the #GTP scuttle. A word on the Reserve base... Load less of it than you might be accustomed to. One way to tell if you've too much is the proto-lather is rather stringy or seems to float on the surface of your bowl or scuttle. It is also an indication of too little water - add slowly to taste. Finally, you'll want to use a stiffer, wetter brush for best loading. The trick to this base is to use it with some regularity and work to dial it in with your particulars.
As far as lavender accords go, all of these products are just heavenly. In particular today, the Barrister's Reserve Lavender fits right in and will truly please the lavender fans (and even purists) alike. It's soft, gentle and pure. I really look forward to the matching aftershave, and will revisit with a more in-depth and combination review. Needless to say, these products are an epic lavender trifecta!