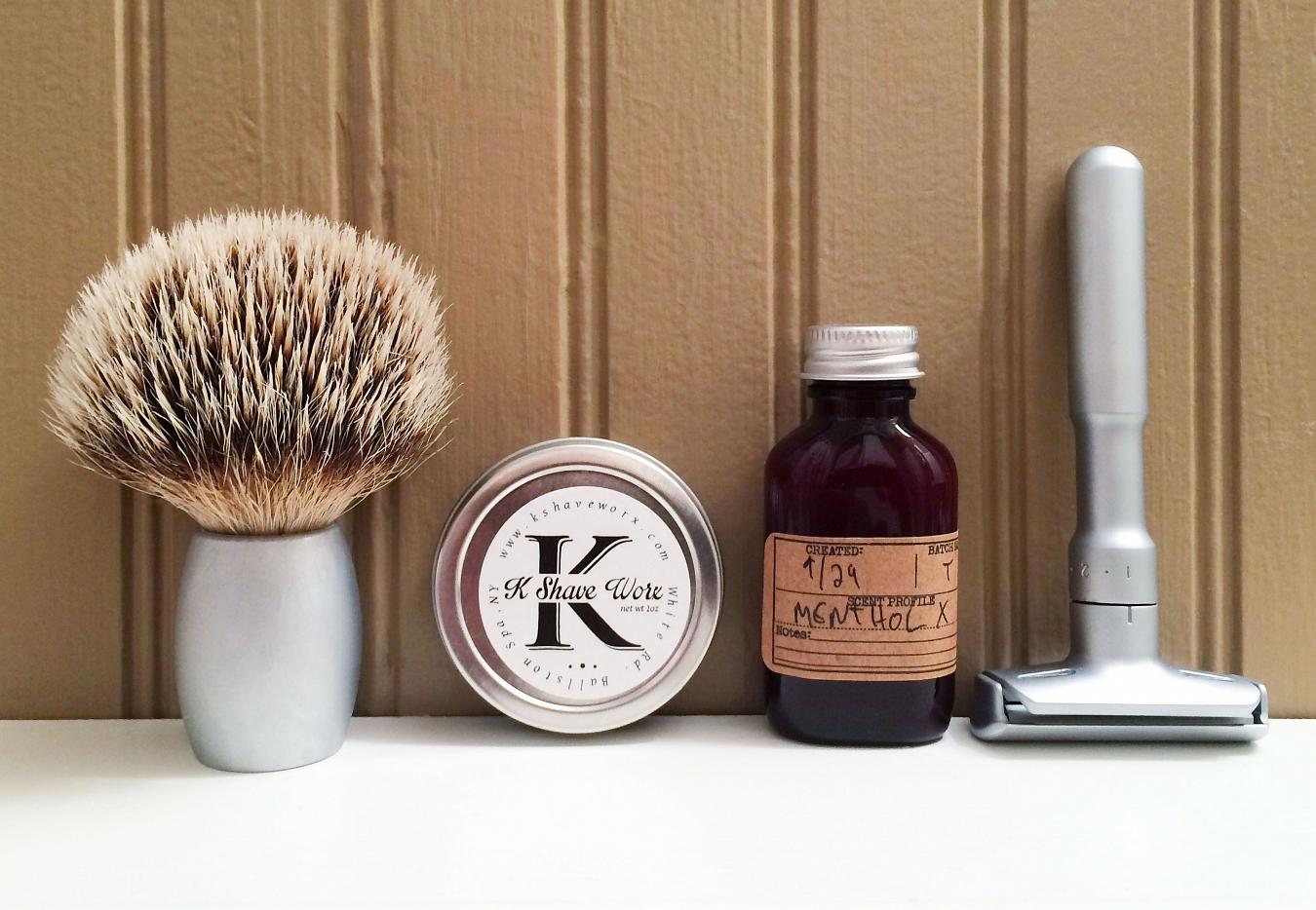 Apparently it's sweater weather in New England, so let's celebrate with a look at another mentholated vanilla scent in the way of K Shave Worx Word to Ya Mutha #soap and The Holy Black's Menthol X #aftershave.
Back in July, I did a review of #TheHolyBlack Goldrush soap which has a similar mentholated vanilla vibe going on. Whereas their "Permafrost" scent combines peppermint up front and vanilla cream on the back side, Word to Ya Mutha is suitably different - featuring notes of sweet vanilla, rum and coconut. While both soaps are primarily vanilla, the former is a bit warmer, thanks to the cream component which is quite noticeable - whereas the #KShaveWorx soap is more like the vanilla extract you might use when cooking; you get that bit of rum/alcohol in there with a little coconut sweetness. As a big fan of all things vanilla, I like them both very much. That also explains my love for B&M Lavanille and my latest acquisition, made from unobtanium - Vanille itself! But I digress... The performance of the soap is very much like other K Shave Worx soaps that I've reviewed - like the Raspberry Vanilla for the August 2016 NYC Meet-up or more recently, their 366 soap. To recap, ample, creamy lather with excellent cushion, good glide and decent secondary lubricity. The chill is on par with Proraso Green (menthol) or B&M Adagio say - a noticeable bit of chill - but not a crazy menthol soap. It won't excite the menth-heads out there.
I also did a review of The Holy Black's Menthol X aftershave not long ago, with the aforementioned Goldrush soap, so you can consider that another data point in comparing soaps/scents. I won't repeat that review here, but only reiterate how cool it is - literally and figuratively. Unlike most highly mentholated products, it has zero eye-watering vapors. Just a unique, icy coolness that lasts a solid 15 minutes or so before it starts to really fade. But I was still feeling it after 20 minutes. It has a great fougére scent of its own, and because it's not all in-your-face menthol - you can actually smell it! This will be some must-have software when it's released for the menth-heads!
Hardware today consisted of the #Merkur #Futur fitted with a #Gillette 7 O'clock (black) blade on shave two and dialed down to a "1" for an easy, comfortable Tuesday morning shave. Unlike some other razors, these blades do very well in the Futur as they're quite sharp like the PolSilver yet not harsh like the Feather blades. They were my go-to for quite a while. The #Dovo silvertip badger brush made quick work of loading the palmed sample tin and lathering it up in the #GTP scuttle.
A great, chilly shave with a nice take on vanilla, thanks to K Shave Worx Word to Ya Mutha and The Holy Black Menthol X to keep it chillin' on this coldest morning of the season so far. Good performing software. One has great value - while the other has great promise.