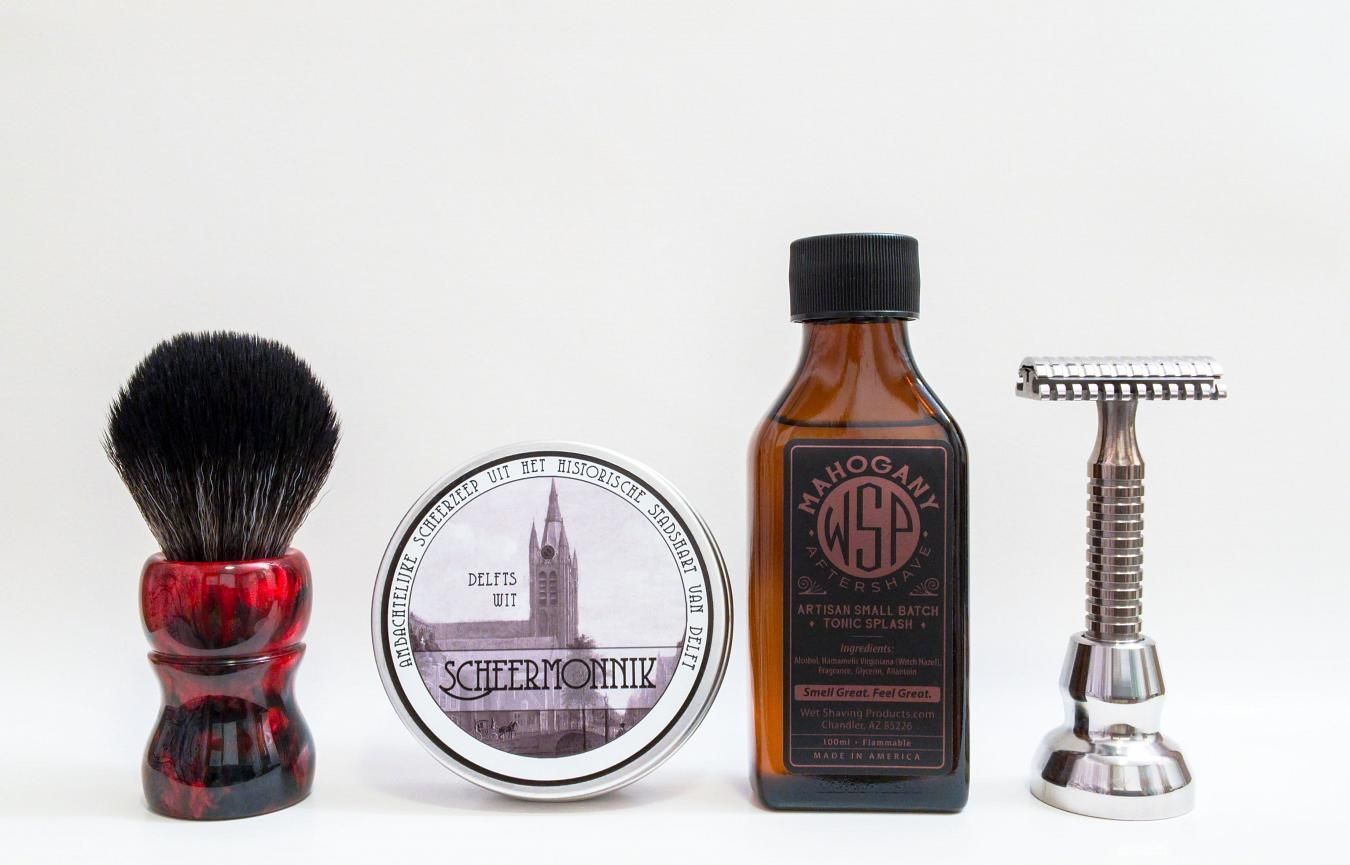 Shaving Product Review - Scheermonnik "Delfts Wit"
Value (Cost, Packaging and Performance)
Lather (Density, Glide and Feel)
Post-shave (Healing, Moisture and Feel)
Scent (Quality, Strength and Longevity)
Each bar has three metrics, each representing 33% of the total (11% = below-avg, 22% = avg, 33% = above-avg, except cost)
Today's #soap comes from a Dutch artisan by the name of Scheermonnik in the Delfts Wit scent while the #aftershave is from Wet Shaving Products in the Mahogany scent; a lovely pairing.
A woody scent that has notes of Italian bergamot, apple wood, tonka bean, patchouli, cedarwood, and oakmoss. Finished with cardamom, vanilla bourbon and allspice.
I'm taking a quick break from JeevesWeek (which will continue tomorrow) to prioritize today's review, which is courtesy of a pass around. Only the scent seen today is in a full-sized tin; the rest are all sample containers.
The artisan making the soap hails from the Netherlands by the name of Scheermonnik or "shaving monk." The scent is called Delfts Wit or Delft White in English. It's a rather curious name; while they're based in Delft (which recalls the common blue and white pottery) the scent is essentially spiced mahogany. Officially, the notes are bergamot, apple wood, tonka bean, patchouli, cedarwood, oakmoss, cardamom, vanilla bourbon and allspice. It is my strong suspicion that it's a simple Spiced Mahogany fragrance oil from Bramble Berry behind it (literally, note for note). It's the same fragrance oil found in the likes of Van Yulay The Spy Who Shaved Me. For what it's worth, it smells nice but is a light scent strength.
My curiosity piqued, I did a little digging. Turns out that Delftse Donderslag or Delft Thunderclap which lists the notes of black amber, Parisian lavender, black myrrh, dulcet vanilla, tonka bean, Egyptian musk and clary sage is another dead ringer for Black Amber And Lavender fragrance oil. If that doesn't clinch it, then Soek or Souk will, with its notes of myrrh, orange, ginger, cinnamon, cloves, caraway seed and vanilla coming via Arabian Spice fragrance oil. Both from, you guessed it - Bramble Berry. Their upcoming scent of 1778 looks to hail from there also. Given the notes of tobacco, black tea, fruit and spice it sounds just like Beau Brummel Cybilla.
For the aftershave then, I decided to go with Wet Shaving Products Mahogany which lists eerily similar notes of mahogany, cedar, bergamot, vanilla, patchouli and allspice. I did a full full review of Mahogany previously, so I won't get into that today. Considering that #wsp_shaving uses fragrance oils in Gaelic Tweed and Matterhorn for example, I suspect there's also a correlation here.
The soap is a vegan formula, and appears to be fairly decent with glycerin, coconut, shea and castor oils, etc. Here's the full list:
Aqua, stearic acid, cocos nucifera oil, potassium hydroxide, glycerin, butyrospermum parkii butter, ricinus communis seed oil, parfum, benzyl benzoate, linalool, benzyl salicylate, eugenol, coumarin, hydroxyisohexyl 3-cyclohexene carboxaldehyde and limonene.
The lather was semi-fluffy and abundant with good cushion, slickness and face feel. Nothing particularly standout, however. Packaging is in a small aluminum tin, with a nice enough label top and bottom. It should be noted that the tins only contain 75g (2.6 ounces) of soap. Typically we see 100-125g (3.5-4.4 ounces) from artisans. Combined with the price of €17.50 ($21.60) plus shipping from Europe... This marks a fairly poor value, all things considered. Seems a shame to me, as I'm a fan of the Netherlands in general, so I would've liked to see this artisan come on a bit stronger - like their Instagram feed seems to imply. Unfortunately, #Scheermonnik moves to the "keep an eye on" list for me... We'll see how they develop going forward; but I won't be buying any.
Hardware today consisted of the stainless steel #TimelessRazor in an "aggressive edition" with a .95mm blade game on a custom open/scalloped comb head with a RazoRock Halo handle in titanium. Working on a #PolSilver blade on shave three. A beautiful BBS shave was rendered today! The brush is a lovely #LowbornSupply model, sporting a 24mm BOSS knot. The #GTP scuttle did its thing.
I wanted to like Scheermonnik but I was disappointed by several things. The fact that the soaps are all scented with fragrance oils from Bramble Berry is forgivable, but the light scent strength, small amount of soap in an equally small tin and absurdly high price make this one a definite no-go. The performance was decent enough, but not memorable. So you can't even base your decision on that. I won't discount them altogether, but rather I'll keep my eye on them and see where it goes.