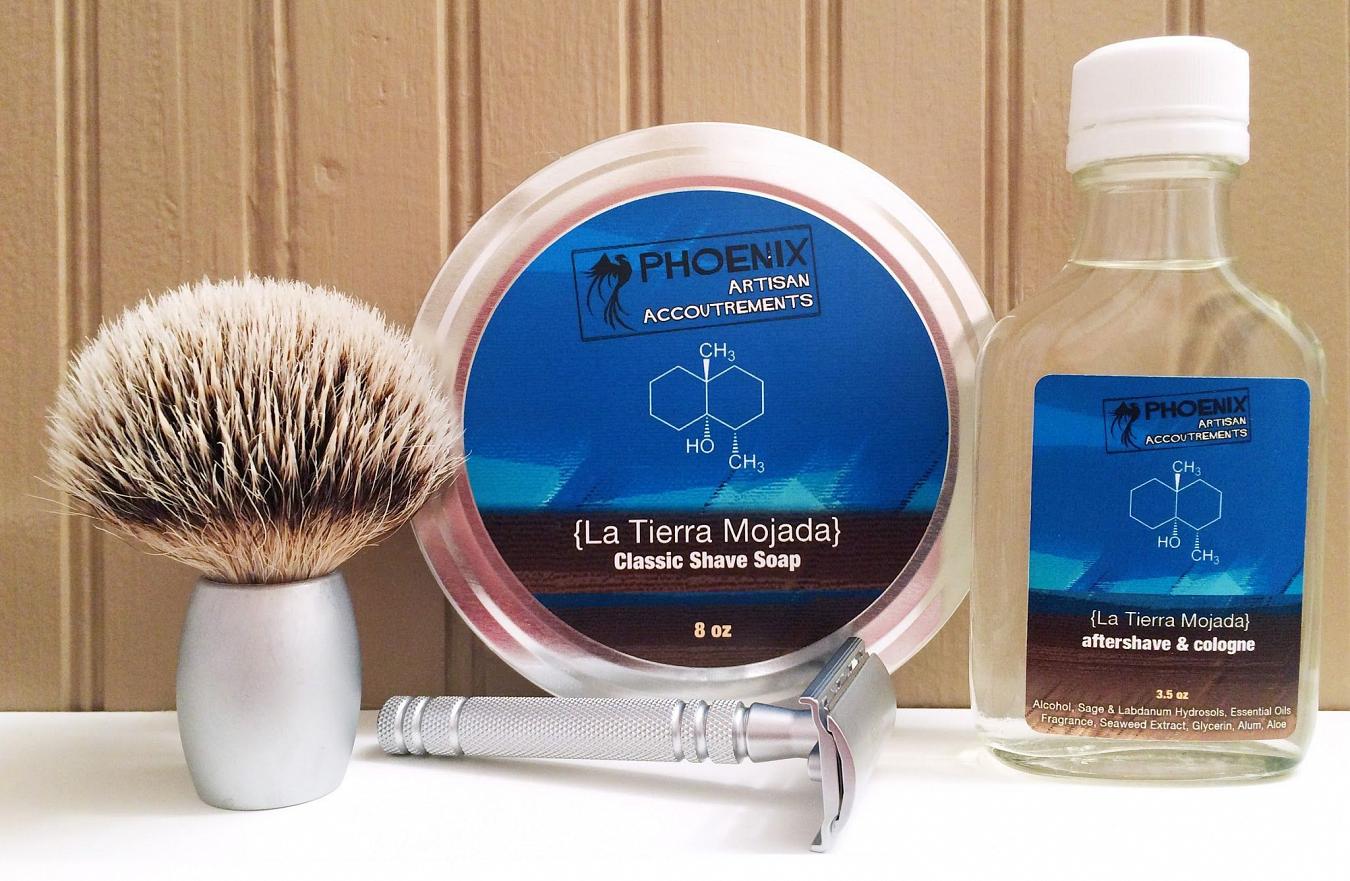 Today's SOTD is part two of the #PetrichorShootout! The Rainstorm Rumble. The Petrichor Parallel. The Geosmin Gander... PAA's La Tierra Mojada #soap and #aftershave!
I've reviewed #PAA's in the past (http://tinyurl.com/nlqb5o3) albeit briefly. Today will be a little more in-depth. One note is that (I believe) because I've been trying different soaps lately, that I've left my brush wetter than usual when loading - which would explain yesterday's thinner than usual lather... And today's. At least it's a more apples-to-apples comparison.
While the lather is typically nice and thick, it nevertheless had plenty of cushion and glide; typical PAA lather quality - excellent. So let's talk about the scent, which is where the real meat of the matter is. Unlike Summer Storm soap, which has an overriding earthy and fresh cut grass scent, La Tierra Mojada soap is more on the floral side.
The La Tierra Mojada aftershave has a strong but "dry" dirt open and what you might expect in dry climes, such as a desert. The bamboo and sages temper the scent and give it that petrichor vibe. The heart notes are more floral with hydrangea and juniper along with bitter orange (neroli and petitgrain) - and where it essentially remains. While the base has some patchouli and vetiver to green it up, I smell more of the labdanum - a sort of rosy scent. It very much reminds one of a rainstorm... Gently falling upon a garden.
Today's hardware included the #Dovo silvertip badger brush and shimmed #Feather AS-D2 razor also fitted with a Feather blade on shave one... Which was harsher than the last run of this setup and my face was a tad irritated. I'm beginning to think I'll just stick with #PolSilver blades and be done with it. They're always smooth, consistent, and really - just as close.
To ease my tortured face, I used PAA's Frost Byte balm for the first time! As expected, it had a healthy peppermint scent with some nice, but mellow menthol/cooling effect. The scent didn't last long, and why I chose this particular one. The healing and moisturizing of it is very nice! This stuff is gold. Instantly calmed my skin and left it feeling moisturized without being at all greasy. A little dab'll do ya!
So there's today's SOTD! In a follow-up post to this, I'll directly compare both Summer Storm and La Tierra Mojada products, and what y'all came here to see! This offering from PAA is fantastic, and a really, really nice scent - especially for the warmer months.