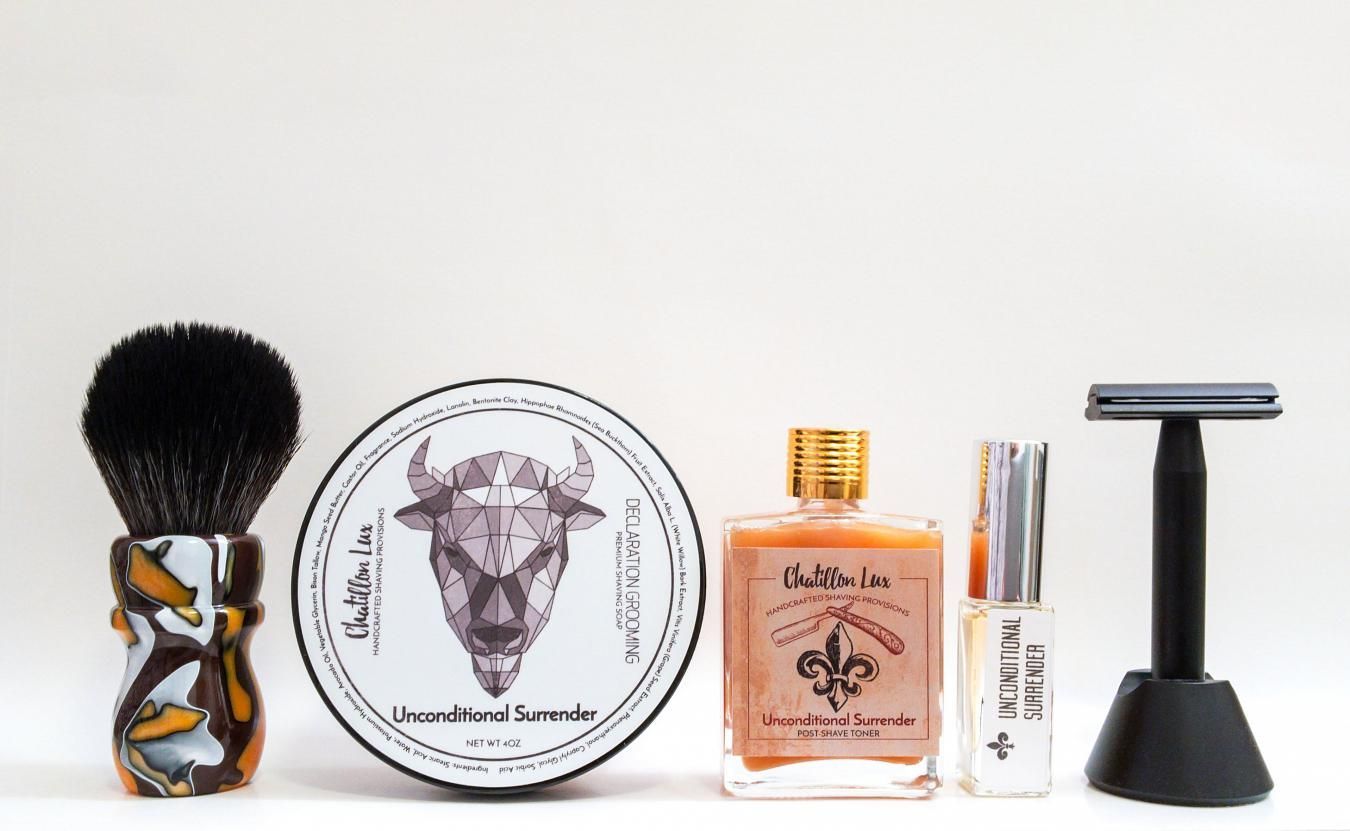 Value (Cost, Packaging and Performance)
Lather (Density, Glide and Feel)
Post-shave (Healing, Moisture and Feel)
Scent (Quality, Strength and Longevity)
Each bar has three metrics, each representing 33% of the total (11% = below-avg, 22% = avg, 33% = above-avg, except cost)
YAC (Yet Another Collaboration) between Chatillon Lux and Declaration Grooming (formerly L&L Grooming) called Unconditional Surrender in an #aftershave (toner), #EdT and now - matching #soap!
This fragrance was inspired by Ulysses S. Grant. After a heroic performance in the Mexican-American War, Grant slipped into a depression and drank his way out of the army. He returned to Saint Louis, struggling to find his place in life. After a few failed attempts to make a living, including selling firewood on a corner, Grant spent time working in his family's tannery until he joined the Union army in the American Civil War.

Finding himself in a familiar role, Grant threw himself vigorously into his duty. One noteworthy performance that caught President Lincoln's eye was the capture of Fort Donelson from the Confederacy. When asked for his terms when negotiating the surrender, Grant demanded unconditional surrender. This helped win him the top spot in the armed forces, as well as a level of fame that caused admirers to send him thousands of cigars.

The scent of Unconditional Surrender is an homage to Grant's tenacity and will to fight back when he was at his lowest point.
I've reviewed a lot of both #chatillonlux and #declarationgrooming (formerly #landlgrooming) here (click on any of those hashtags to see them all) so I won't get into the soap or aftershave performance here. Suffice to say, you can't go wrong with any of these products as they're all top tier and perform appropriately. So let's talk about the scent. Unconditional Surrender has been a staple at Chatillon Lux for a while now as both provisions (splash, toner and salve/balm) and an EdT. It wasn't until the recent April 21, 2018 release from Declaration Grooming that provided the much anticipated "missing" soap that will be a part of the regular offerings! There was a prior release of soap, but it was a much sought after Limited Edition. Not anymore!
Unconditional Surrender officially has notes of amber, tonka bean, amyris, cedarwood, agarwood, vetiver, cigar tobacco, black tea, jasmine and geranium. It's warm, vanillic and woodsy, balanced nicely with the black tea and florals to brighten it up some and add complexity. A lovely scent that's wearable anywhere, any season. Even combining the toner and EdT though, the sillage is only medium with a longevity of 6 hours. I was hoping for a bit more with the EdT, honestly.
You'll notice that the EdT bottle up above is a sample size of 5ml - as opposed to the regular 2oz. size. I apologize for the cap being on crooked, ugh. The sample goes for $8 while the regular is $60. While I like the scent of Unconditional Surrender it's not Rose Santal or Yuzu/Rose/Patchouli in terms of sillage, longevity or overall "wow factor." Granted, those two are perhaps somewhat extreme examples in all three categories. Of course, there's the Santal Auster parfum extrait at $20/90 price points for the same quantities, respectively, but that's a whole different animal and a one-off. Look for an updated review of that, to include the parfum extrait soon.
Hardware nods go to the all-black #StandardRazors with a #Gillette Silver Blue blade on shave five. The brush is a lovely piece from #WildWestBrushworks in that ribbony resin that I love so much, sporting pearlescent colors of yellow, reddish brown, black and white. The knot is a chunky 26mm BOSS and one of my favorites these days, as well as the size. The #GTP scuttle kept the lather contained and warm.
A really nice scent, but a bit light on sillage and longevity considering the EdT offering. But as with all things Chatillon Lux you know you're getting a quality set of products and now with the permanent soap on offer from Declaration Grooming this is a set you'll definitely want to grab or just add to the collection. You can wear it everywhere.