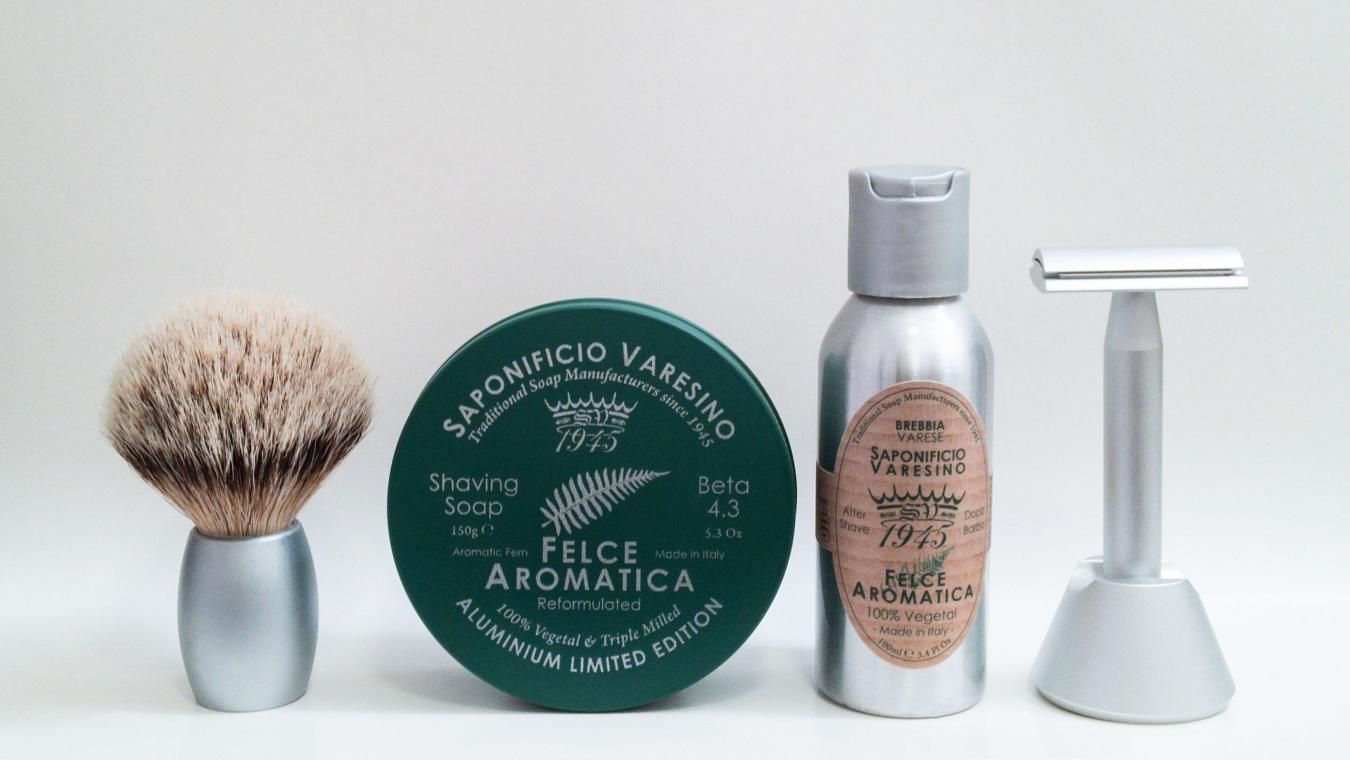 Shaving Product Review - Saponificio Varesino "Felce Aromatica"


Value (Cost, Packaging and Performance)
Lather (Density, Glide and Feel)
Post-shave (Healing, Moisture and Feel)
Scent (Quality, Strength and Longevity)
Each bar has three metrics, each representing 33% of the total (11% = below-avg, 22% = avg, 33% = above-avg, except cost)
Italian shaving superstar Saponificio Varesino has done it again; re-releasing their Felce Aromatica #soap in their newest (Beta 4.3) formulation in a limited edition aluminum tin with matching #aftershave!
The Aromatic Fern fragrance blends with the aromas of natural additives, creating a fresh and intense note. The presence of Dryopteris filix-mas Root Extract (extract of Male Fern), has the power to balance your skin.
When it comes to shaving software, there's a top tier of artisans and products that are beyond compare. Saponificio Varesino out of Italy is one of them. They've been around since 1945 and know a thing or two about soaps, and my regular readers will know that I've raved about Saponificio Varesino a lot around here. Their latest offering, Felce Aromatica in a Limited Edition aluminum tin in the Beta 4.3 formula is another knockout. It takes the scent of the prior Beta 4.0 formula and ups the lather quality all around as well as using their latest packaging format. Indeed, the ingredients of this new base are astonishing (beware, they use scientific naming):
Sodium cocoate, potassium stearate, sodium cocoyl isethionate, sodium rapeseedate, sodium sunflower seedate, aqua/water/eau, coco glucoside, glyceryl oleate, erythritol, ricinus communis oil, hydrogenated castor oil, copernica cerifera cera, cera alba, fraxinus ornus (manna ash) sap extract, dryopteris filix-mas root extract, galactoarabinan, shorea stenoptera seed butter, parfum/fragrance, macadamia ternifolia seed oil, sucrose cocoate, butyrospermum parkii (shea) butter, prunus amygdalus dulcis (sweet almond) oil, oryza sativa (rice) starch, xanthan gum, glycerin, stearic acid, sodium chloride, tocopheryl acetate, vitis vinifera (grape) seed oil, citric acid, alpha isomethyl ionone, citronellol, coumarin, limonene and linalool.
It's a non-tallow formula, but it's essentially unequaled in the shaving world in terms of lather quality, moisturizing properties and scent in terms of quality and strength. Each scent comes across as a high-end Italian cologne and Felce Aromatica is no exception. The accords are complex; and Felce Aromatica (which means "aromatic fern" by the way) has top notes of petit grain, bergamot, lemon, tangerine and clary sage, middle notes of elemi, black pepper, ginger root, bourbon geranium leaves and silver fir and base notes of amber, sandalwood, patchouli and vetiver!
Told you it was complex... Elemi, if you're not aware, is part of the same family as frankincense and myrrh. The top is herbal and citrusy that blends into a spicy middle, perfectly settling to a warm, green base. What starts as an almost familiar Italian fragrance on the open transforms into a lovely, green fougére at the end. While many are more on the aquatic side, this one's firmly fougére. The scent quality, as you might expect then - is absolutely top notch - and the strength quite robust. Unfortunately, the longevity is fairly moderate and I only get a couple of hours from the aftershave/balm.
Quick notes on performance; the soap performs as well (or better) than every other #sapvaresino soap - that is to say, amazing. The aftershave, a thick, viscous fluid also is amazing. It applies like an aftershave, yet provides the skin feel of a balm (the key is to use a tiny amount). One point worth mentioning is that not everyone can lather the soap; water hardness seems to be the deciding factor. Personally, I've never had an issue - the lather is thick, creamy and slick.
Another quick note on the price of these goodies. If you look at the Saponificio Varesino online store you'll notice that the products are priced very well, actually. Inexpensive even, considering the top of the scale performance. What kills it for most people here in the states is the cost of shipping from Italy. Like Martin de Candre it dulls the value quickly - and stateside vendors aren't helping, as they build the shipping into their pricing (which is fair in theory but overpriced in practice). To realize the best pricing, you need to get a buddy or two and order what you want - and split the shipping! This is how I get my stuff; fresh and direct.
Hardware called for matching aluminum bits, and that's where the raw #StandardRazors razor came in, fitted with a #PolSilver blade on four. The matching #Dovo silvertip badger brush added to the experience with its exquisite knot, whipping the fine lather into shape in the #GTP scuttle.
I never hesitate to reach for Saponificio Varesino products except maybe in trying to save them for more "special occasion" shaves (today's Friday, so that counts in my book!). I'm always guaranteed a wonderful shave. My only reservation with these products is that the exquisite scents don't last for more than a couple to a few hours... I truly wish they made EdT versions of their scents. I'd buy them all. This is the one piece that's missing from their line. Though they do make matching bath soaps, so there's that. Seriously, get yourself some of this stuff.