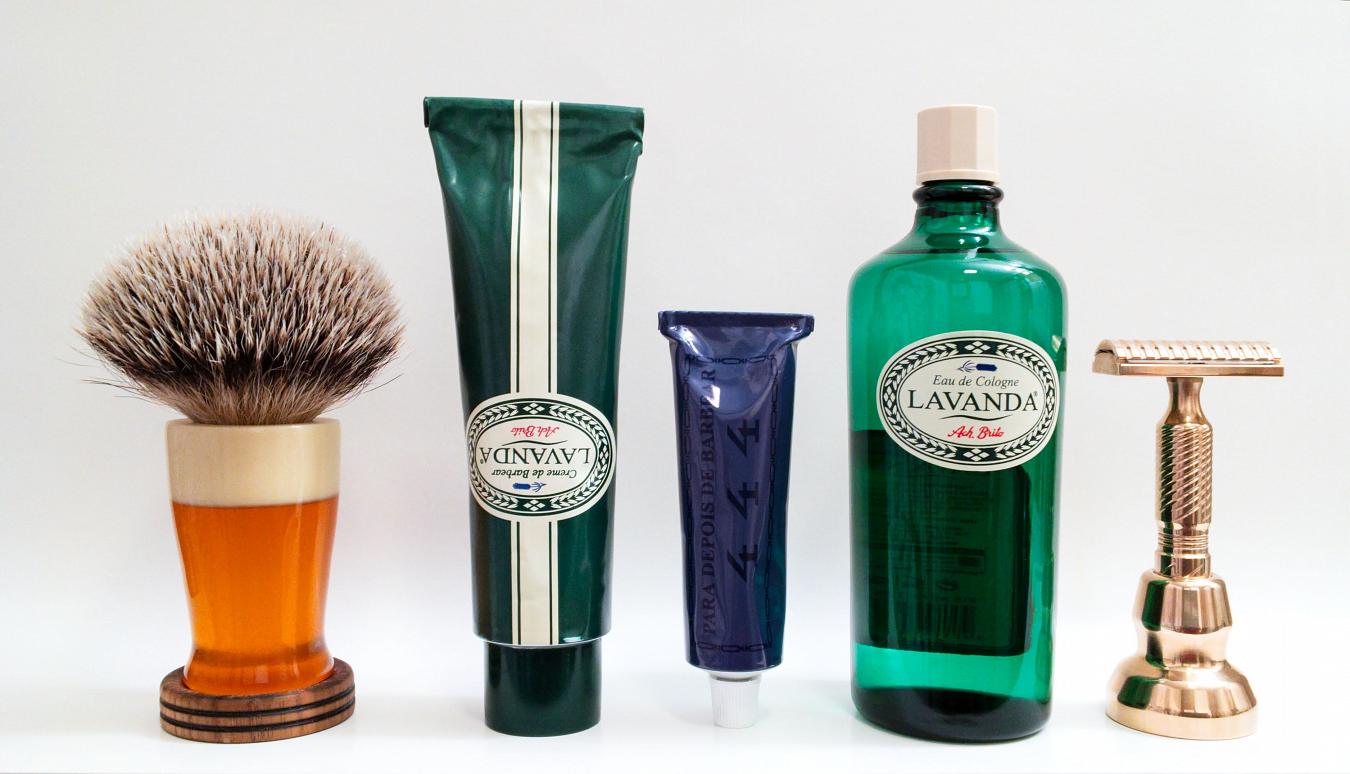 Shaving Product Review - Ach Brito "Lavanda"


Value (Cost, Packaging and Performance)
Lather (Density, Glide and Feel)
Post-shave (Healing, Moisture and Feel)
Scent (Quality, Strength and Longevity)
Each bar has three metrics, each representing 33% of the total (11% = below-avg, 22% = avg, 33% = above-avg, except cost)
Happy #FriYay with this fine shaving product from Portugal, Ach Brito Lavanda - and among a righteous club of super plush shaving #cream with a newly acquired #EdC finish with a 444 menthol #balm intermezzo!
While I've done an in-depth review of #AchBrito Lavanda cream before, it wasn't until recently that I completed the set with a matching Eau de Cologne (doubles as an aftershave, if you'd like) as well as a tube of 444 Aftershave Balm. I spent a full week in the Açores (Azores) week before last on São Miguel and Terceira islands - which is located "off the coast of Portugal" and nearly the middle of the Atlantic Ocean. Needless to say, I looked in every conceivable shop for Ach Brito and Claus Porto products, along with anything else new and interesting. Oddly enough, I came up with little. I guess the mainland is where it's at. A brief recap:
First, a little history is in order. Claus & Schweder was founded in 1887 by Ferdinand Claus and George Schweder, two Germans living in Portugal. Ach Brito was founded in 1918, by brothers Affonso and Achilles de Brito. In 1925, Ach Brito bought Claus & Schweder and in 2008, bought Saboaria e Perfumaria Confiança, SA (the second oldest soap factory in the country). Ach Brito (produces Lavanda, Veleiro and Top Secret shaving creams) while their luxury brand, Claus Porto - produces Musgo Real. To recap, the three main brands are Ach Brito, Confiança and Claus Porto. Whew!
Lavanda shaving cream bears its traditional lavender scent, combining lavender with citrus notes, seasoned by a delicate touch of heranium and cinnamon. So it's not a straight, floral lavender... More like a lavender that's a slight bit citrusy with a hint of spice. A tube of 100ml goes for around $8, which is a steal. A similar tube of Musgo Real goes for $10 more, at $18 per tube! Considering that Musgo Real is their "luxury line" that might seem to make sense. But let's take a closer look at the ingredients, shall we?
Water, stearic acid (and) palmitic acid, cocos nucifera (coconut) oil, potassium hydroxide, glycerin, sodium hydroxide, parfum, avena sativa kernel extract, sodium lauryl sulfate (and) sodium myristyl sulfate (and) sodium cetyl sulfate (and) sodium stearyl sulfate (and) laureth-10, lauryl PEG/PPG-18/18 methicone (and) dodecene, lanolin, octyldodecanol, propylene glycol, CI 77007 (Ultramarine Blue), CI 19140 (FD&C Yellow 5), linalool, geraniol, limonene, coumarin, eugenol and citronellol
The scent of Lavanda sees notes of citrus, lavender and wood. Upon application, you get a nice citrusy open backed by a lovely lavender. As the citrus burns off, it transitions into a more woodsy scent, with the lavender still present. While the type of wood(s) aren't specified, it feels like cedar to me. Scent strength is a nice medium, with medium sillage and longevity of 4-6 hours. It smells really, really nice. Not exactly "barbershop" (if one could even pinpoint a profile of that) but along those lines just the same.
The balm is a little more obscure. It's made by an old, trusted brand in Portugal by the name of 444. The name is simply, Aftershave Balm but you can just call it 444 and everyone will know what you're talking about. Funny thing is, it's not really a balm - nor is it an aftershave... It's technically a gel, composed mostly of glycerin - along with a healthy dose of menthol. Think of it as a gel version of Jeris Osage Rub (that's clear) and you'll get the idea. There's no scent involved here, and while the menthol kick is excellent, it's not eye watering. As with most balms, a little goes a long way. Apply a small, pea-sized amount rubbed between the hands to your face and rub it in briskly. You can add a few drops of your favorite aftershave too! The ingredients are as simple as it sounds:
Glycerin, menthol, distilled water, carboxivinil resin and disoproprilamin
These are all no-nonsense, high quality products that sell for peanuts (in and around Portugal anyway). I paid 7.99€ (~$9.40) for the 215ml bottle of Lavanda EdC and something like 3.49€ (~$4.00) for the 444. In the states and from vendors, you can expect to pay about $22 and $8, respectively! Ouch.
Hardware included the #TimelessRazor #TRBR38 bronze razor with a #PolSilver blade on shave seven. The #GTP scuttle struggled to contain the pile of lather I managed to generate with a (perhaps too) healthy snurdle of cream at the bottom. Nothing but creamy, yogurty lather with plenty of cushion, excellent glide and good secondary lubricity and the resulting face feel is superb as well, owing to the load of choice ingredients.
The star of the show hardware wise is a custom #ThatDarnRob "Beer" brush which is fitted with a 22mm silvertip badger knot (which fits the hole for a 24mm knot perfectly) complete with a teak wood coaster. The effect is that of a resting beer, complete with little "carbonation bubbles" within the resin... This brush is a work of art. A test lather and today's shave begat the insane bloom you see above. With a dozen more shaves or so that will likely get larger, which the brush gets softer and softer, especially at the tips. Lovely face feel; despite how far synthetics have come, it's hard to beat a real silvertip badger on this front.
A lovely, lovely Friday shave with solid hardware and software. Every time I use a shaving cream I vow to use more of them in the future. Somehow though, I don't manage it. Clearly time to redouble my efforts! As a suggestion, I'd easily say that anything shaving software that hails from Portugal is pure gold. Seriously. Doesn't matter who makes it; try it - and you won't be sorry!