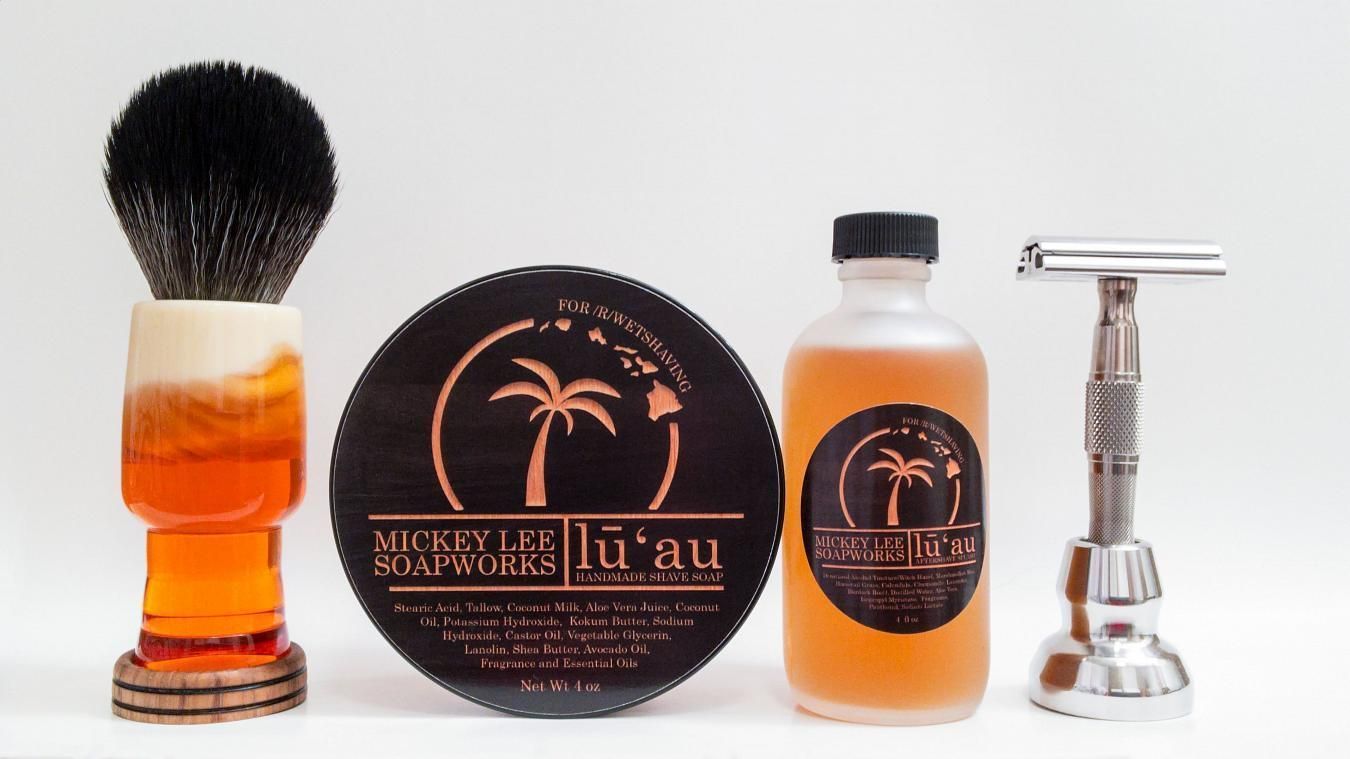 Value (Cost, Packaging and Performance)
Lather (Density, Glide and Feel)
Post-shave (Healing, Moisture and Feel)
Scent (Quality, Strength and Longevity)
Each bar has three metrics, each representing 33% of the total (11% = below-avg, 22% = avg, 33% = above-avg, except cost)
Hang ten, then settle back with a Mai Tai as the Kālua pig makes some turns over the BBQ with Mickey Lee Soapworks Lu'au #soap and #aftershave!
Bring on the fruity drinks with little umbrellas, flowered leis, and summer! This fragrance is an homage to a getaway on the islands. Fruity, floral, tropical... Everything that makes for a good time.
I've no shortage of #mickeyleesoaps reviews here on the site, certainly. I even did an in-depth review of Lu'au before - so I won't add anything new here today. In case you didn't catch it, it's a limited edition (130 produced) for the Reddit sub-reddit of /r/Wetshaving and is essentially fruity and floral. Officially, it has notes of passion fruit, coconut, ginger, rose, and lime with a touch of sandalwood and patchouli. This is actually my third passion fruit piece of software... The first being Barrister and Mann Passiflora and the second being Barrister's Reserve Soapmakers of Awesometown and I have to tell you, it never gets old.
Hardware wise, the razor is the same; a #TimelessRazor in a custom "mild edition" sporting a #Stork titanium handle and a #PolSilver blade on shave two. This time I rocked a #ThatDarnRob "beer" brush with a 24mm BOSS knot, complete with teak "coaster" stand... Seemed fitting as the color of the resin handle matches the aftershave and text, while the teak coaster matches the woodgrain background of the labels. Hey, why not, right? The #GTP scuttle did it's usual service in keeping the lather warm and contained.
Mickey Lee Soapworks makes some darn fine stuff. While it might not compete with the top tier, it more than stands on its own and represents a solid value. The scents are nice, unique to the brand and often fun. Lu'au is a good example of all of those qualities. A great shave was had and I smiled nearly the entire time.