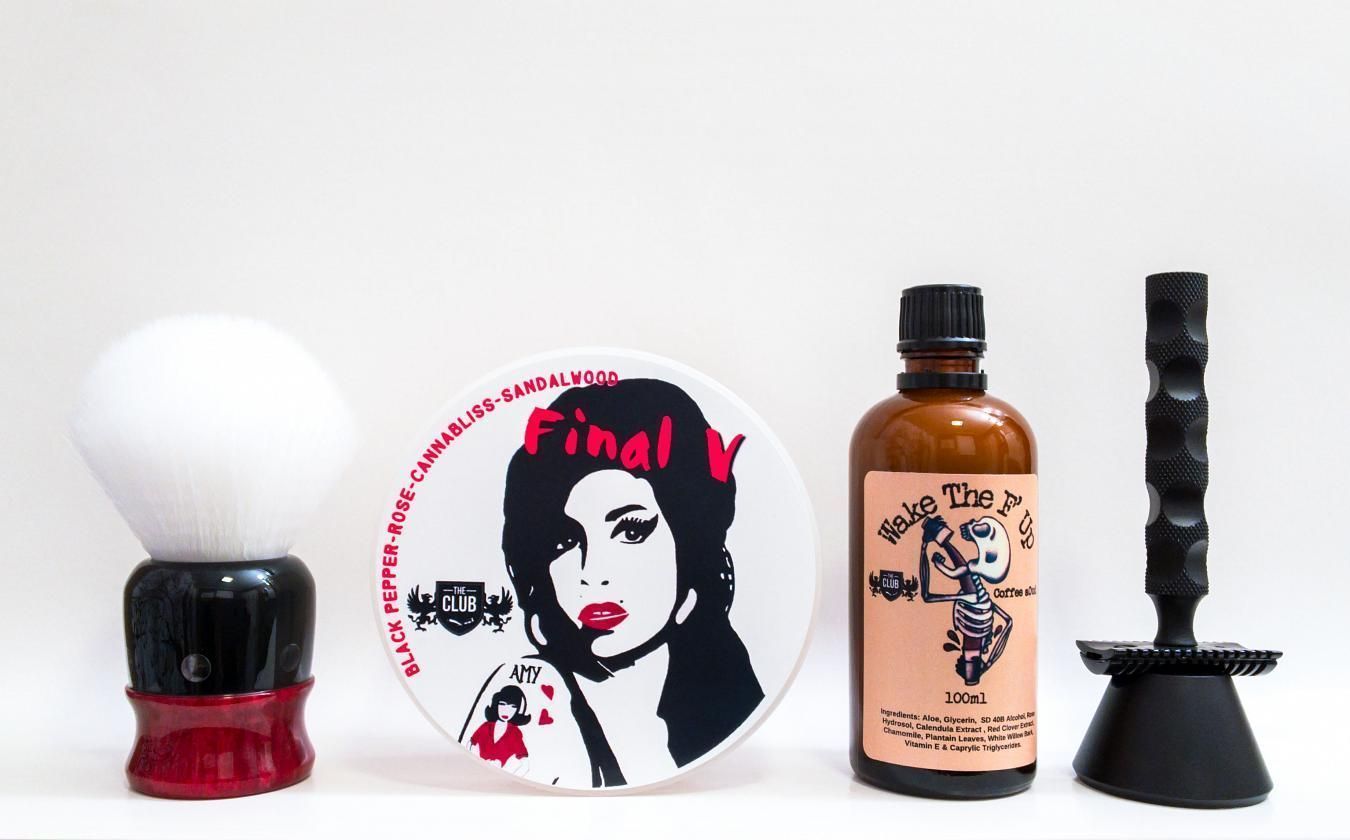 Shaving Product Review - The Club "Amy" & "Wake The F' Up"


Value (Cost, Packaging and Performance)
Lather (Density, Glide and Feel)
Post-shave (Healing, Moisture and Feel)
Scent (Quality, Strength and Longevity)
Each bar has three metrics, each representing 33% of the total (11% = below-avg, 22% = avg, 33% = above-avg, except cost)
Ouuuuuud... Amiright?! Trying out The Club's (Ariana & Evans) new Amy (Final V) offering in a #soap with the new Wake The F' Up #aftershave today!
This is a another test batch of The Club (associated with #ArianaEvans) soap to float some formulation changes past a small group of testers. These have proven to offer a substantial enough improvement over the existing base (the well received and current Goat Milk and Lanolin formula). The scent is kind of besides the point - it's light and only meant to give it a little something. The name and/or artwork are For Entertainment Purposes Only. The ingredients are (largely) anonymous and unspecified. This is the next (and last) test batch, called appropriately enough, Amy (as in Amy Winehouse) or Final V. The prior version, and one I reviewed was Anonymous v12.
The scent? As mentioned, it's basically a freebie. It has notes of black pepper, rose, cannabliss and sandalwood. A bit more complex and interesting than Anonymous v12 with the addition of rose and cannabliss. It smells nicer because of them. Still light and uncomplicated. Just a slightly spicy wood with rounder edges.
Here's what you came for. How's the performance? Generally speaking, it's better than the current formula in practically every aspect (including the aforementioned Anonymous v12). Now, before I get too far ahead - I've only used it once, and will need more time with it. That said... Loading seems somewhat changed; my usual time of 30s resulted in plenty of creamy lather for a three-pass shave but prefers a wetter brush. It's also a bit thirstier, so adding water as you build the lather is the way to go. This part took perhaps a little more time than the current formula. You can add a lot of water, which builds slickness - but it was already very good; both primary and secondary. The residual slickness of this batch is way improved; you could touch up almost at will after a pass, and for quite a while. Post-shave feel is perhaps most improved; it's nicer - more moisturized feeling and supple.
The aftershave is also a new product; not yet released. It's called Wake The F' Up and features notes of oud, sandalwood, centifolia rose absolute, vanilla, praline, a coffee accord and Pillon espresso. Centifolia rose is also known as the Provence rose or cabbage rose. I'm going to review this scent separately, but it's a lovely fragrance that's right up my alley... Woods, coffee, a warm sweetness and a hint of floral. What's not to love? I followed up with #Guerlain Oud Essentiel as this was the perfect segue for this beast of a fragrance. I did an extensive review of Oud Essentiel previously, so definitely check that out.
Hardware today consisted of the Frankenrazor that is a #Yaqi matte-black Mellon head, a Shaving Shop Assassin razor handle and a #StandardRazors stand with a #PolSilver blade on shave two. This razor head definitely like the PolSilver blades a lot better than the Feather in my experience. Just so much smoother (which I find to generally be the case with these). The brush is the custom RMS Titanic from #LeoFrilot sporting a 30mm Ghost knot. I've been really on the fence about this knot. It's easily "the most synthetic" looking and feeling of the knots out there (as well as its all-black counterpart). It's a 30mm but it doesn't quite "feel" like a 30mm because it's not that dense (just heavily crimped/corrugated fibers). The #GTP scuttle did its thang...
A great shave with an improved, albeit already great base... It has now reached Final V (final version) status - and should offer an excellent, across the board upgrade to the current base. Maybe not markedly better in all areas, but still improved. I think everyone will be quite pleased; it's rather good. You'll start to see this base roll out in new offerings across the three brands soon.