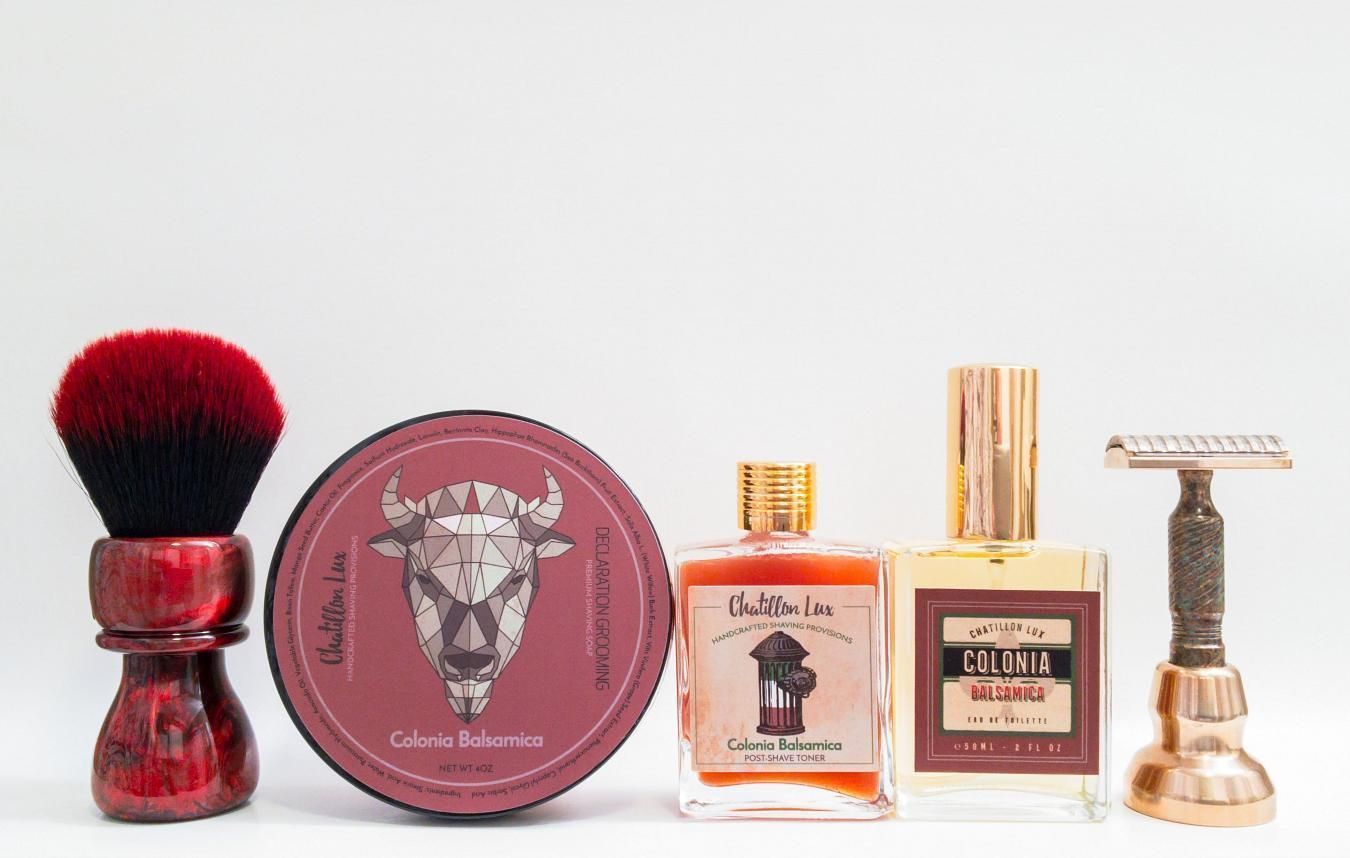 Value (Cost, Packaging and Performance)
Lather (Density, Glide and Feel)
Post-shave (Healing, Moisture and Feel)
Scent (Quality, Strength and Longevity)
Each bar has three metrics, each representing 33% of the total (11% = below-avg, 22% = avg, 33% = above-avg, except cost)
Rocking the citrusy, floral and balsamic joy from Chatillon Lux and Declaration Grooming called Colonia Balsamica in a #soap, #aftershave (toner) and #EdC!
Colonia Balsamica is based on a traditional Italian Colonia scent with some twists inspired by Saint Louis' Italian neighborhood, The Hill.

This neighborhood, home to many immigrants from Lombardy and Sicily, is where baseball Hall of Famers Yogi Berra and Joe Garagiola grew up. In the midst of beautifully manicured yards and bocce ball courts, are traditional Lombardi and Sicilian restaurants. Before they made the major leagues, these two future all-stars bussed tables to help out with their blue-collar families.

Colonia Balsamica takes the traditional Italian cologne scent and adds powdery floral, zesty herbal and soft green notes as an homage to the neighborhood that remains a snapshot of a long-past time.
I've reviewed a lot of both #chatillonlux and #declarationgrooming (formerly #landlgrooming) here (click on any of those hashtags to see them all) so I won't get into the soap or aftershave performance here. Suffice to say, you can't go wrong with any of these products as they're all top tier and perform appropriately. So let's talk about the scent. Colonia Balsamica has been a favorite at Chatillon Lux for a while now as provisions (splash, toner and salve/balm). It wasn't until the recent May 4, 2018 release that an Eau de Cologne was available - with Declaration Grooming providing the much anticipated "missing" soap! However, only one run of aftershave, toner, salve, eau de toilette and shaving soap will be on offer, unfortunately. Once stock runs out - that's it.
Colonia Balsamica officially has notes of lemon, Spanish moss, lavender, vetiver, jasmine, rosemary, basil, ginger, green notes, ylang-ylang, amber, musk, grapefruit and petitgrain. It comes off as remotely reminiscent of the Italian Acqua di Parma Colonia scents, especially Assoluta which inspired it. After the initial citrusy hit, it goes a bit floral in the middle, then finally green and balsamic as it settles down. As evidenced by the gold cap on the EdC, it is identical to the shaving provisions, scent-wise... It's just in a stronger concentration. The soap, perhaps obviously, is of the same scent as well.
Scent strength of all products, save for the EdC, are fairly medium. The latter a strong medium; and while the sillage is fairly decent (at least for a while) the longevity of the EdC is rather short at 4 hours. I had hoped for more, despite discounting the short lived citrus notes. Even on clothing, it seemed to vanish completely - don't expect an all-day wear. Taken in context though, it does make sense. Acqua di Parma Colonia scents are basically the 4711 Original Eau de Cologne of Italy (similar to Chatillon Lux Fourth and Pine) and just as medium lived.
Hardware today included the #TimelessRazor #TRBR38 with an #Astra blade on shave four. The awesome, matching brush is courtesy of #GrizzlyBay and appropriately called Vlad. It sports a 26mm Blood Knot to complete that theme. Think of it as essentially a Tuxedo knot with red, rather than white tips. The #GTP scuttle did the things it does so well.
I was really looking forward to this shave, having recently tried Acqua di Parma Pura and Blu Mediteraneo. As 4711 is to Germany, Colonia is to Italy. Unfortunately, neither are terribly long lasting - but are all top notch scents! Citrus, FTW. If you're a fan of the Colonia scents, definitely give Colonia Balsamica a try. It's inspired by Assoluta with the citrus and florals, yet is unique unto itself with green and balsamic notes.