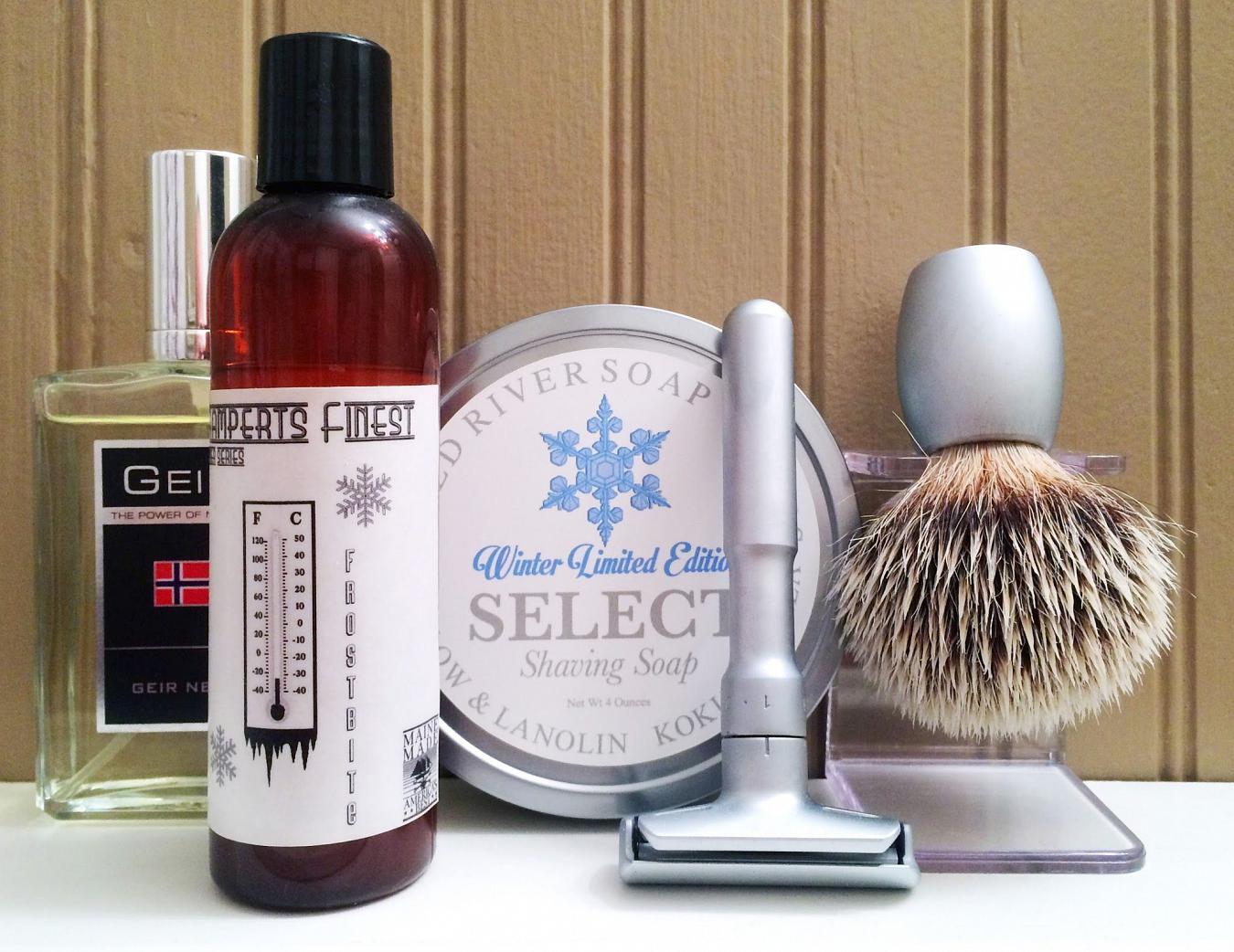 A winter wonderland SOTD of a featuring Cold River Soap Works Winter LE #soap, Krampert's Finest Frostbite #aftershave and Geir Ness #EdP!
Hot on the heels of yesterday's first impression report and #MailCall on #coldriversoap Winter LE soap, I had to give this one a shot right away. Since there's no matching AS, what better to use than Krampert's Frostbite since it has a "wintery" theme all its own. Finally, there's Geir Ness to keep the chilly, woodsy vibe going.
First off, the Winter LE soap from CRSW. I've reviewed their soaps before quite a bit; the Spring, Summer and Fall LE soaps to be specific. Long and short of it; this is pretty much everything a soap should be... Easy to produce and copious amounts of cushiony and slick lather with excellent post-shave face feel. The scent is what sets it apart...
Described as "...top notes of eucalyptus, citrus and ozone with nuances of cranberry. Mid notes of warm spices, carnation and tuberose blend into a warm base of cedar and balsam. The fresh clean scents of a winter day."
As yesterday when I sniffed the tin, I get balsam and cedar primarily, backed up by ozone and eucalyptus. Very much a pine tree thing going on. The citrus and cranberry are subtle, as are the carnation and tuberose - but round out the scent nicely, adding quite a bit of complexity and depth to the profile. It definitely smells like a winter scent - not so much a holiday scent. That is, not specifically "Christmas-y" - more like picking out a wreath or tree on a chilly day.
For the aftershave, I went with Frostbite simply because it's chock full of great face feel appeal... And the scent keeps the vibe going with frankincense and menthol. The other aftershave he makes, Acadian Spice would be another winner here, but it's of a warming action. So depending on what you're after - switch it up!
Capping it all off, #GeirNess provides a complex woody scent that recalls winter scenery as well. See my first impression (http://tinyurl.com/qhgk7rx) as well as my review (http://tinyurl.com/osefs8s) for more info.
Hardware included the #Merkur #Futur razor with the #PolSilver blade on shave four, the #Dovo silvertip badger brush caressing the suds in the #GTP scuttle and on my face.
A very nuanced range of fragrances today that all play off each other to paint a complex, wintery scene filled with chill and pine trees. Truly outstanding vibe all around and a great shave! I'd highly recommend any or all of these products; you won't be disappointed!