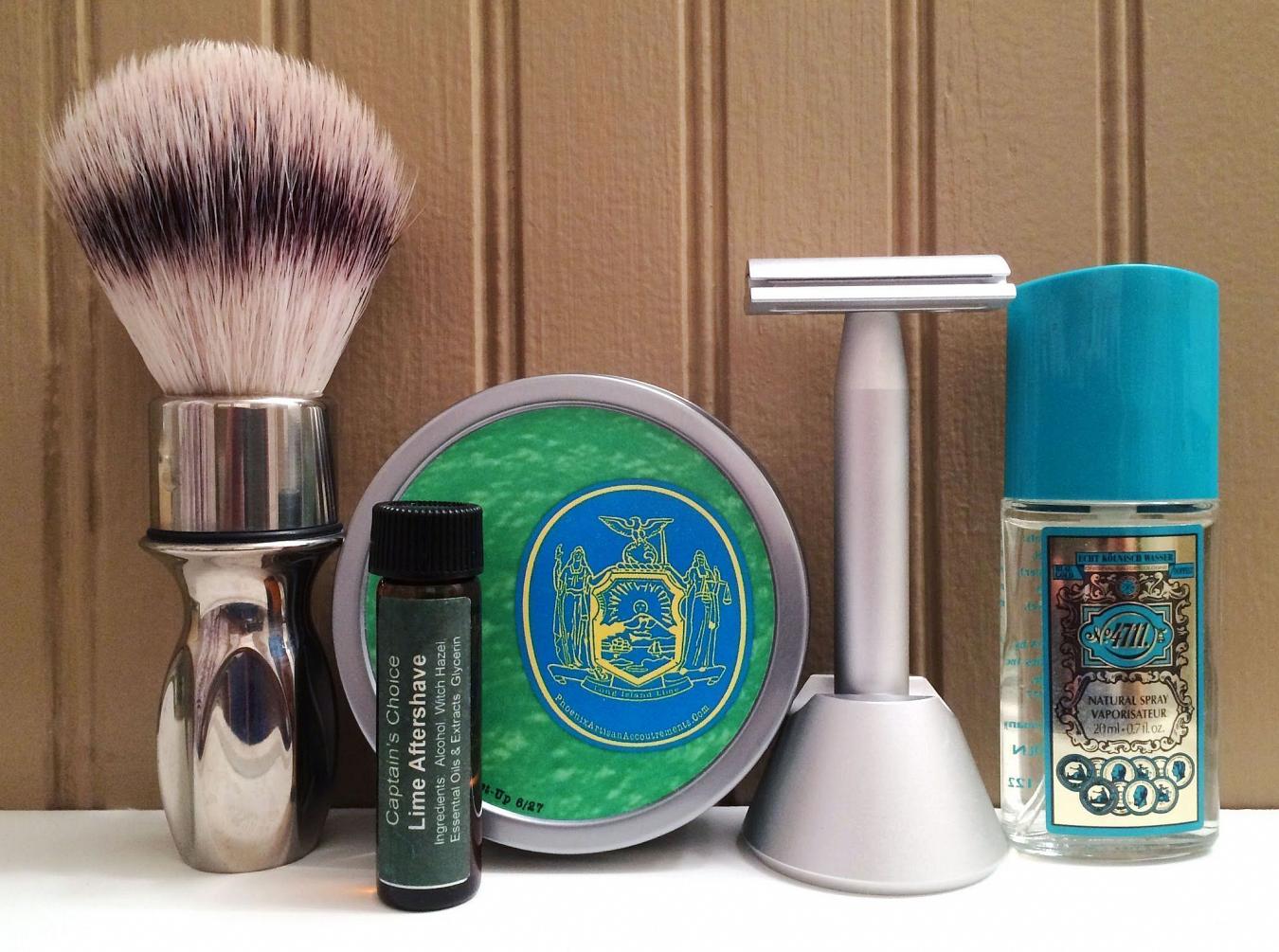 Today's SOTD is brought to you by LIME - courtesy of PAA NY Lime #soap and Captain's Choice Lime #aftershave with a 4711 spritzer to go!
The soap, PAA New York Lime has notes of lime and sea salt and was made especially for a meetup (http://tinyurl.com/heflyxf). Being PAA's Synergy 2.x formula, it's nothing special when compared to today's state of the art(isans) top-tier offerings... Abundant lather and good cushion, but not a lot of glide and zero secondary lubcricity. Granted, they've reformulated to Synergy 3.x now, which has better lubrication - but I wouldn't call it "better" as much as I would... Different. If you're used to top-tier stuff, it's still fairly mediocre. Scent strength is a strong medium, which is nice - but only a so-so face feel. It lacks ingredients like tallow and lanolin (because it's a vegan formula) and things like avocado oil, palm oil, Tussah silk, etc. Saponificio Varesino uses vegan formulas and there's simply no comparison.
The Captain's Choice Lime Aftershave is much like their other offerings as far as ingredients go; a fairly simple concoction of alcohol, witch hazel, essential oils, extracts and glycerin. It does a respectable job on face feel but not too much in the way of healing. Again, not standout - but reliable and good value for the money. It's stated to have a "subtle lime scent" with which I would agree; it's not strong by any measure, and fades fairly quickly. Great to use with other colognes.
4711 #EdC has notes of orange, grapefruit, lemon, bergamot, citron, lime, floral and herbal. It's a fairly unique, strong scent - but because of the high percentage of citrus notes (that tend to be rather volatile) suffers when it comes to longevity. It's pretty economical though, and there are some very travel-friendly options, so you can easily reapply whenever needed... They even have moistened towelettes!
Hardware included the #StandardRazors razor with a #PolSilver blade on shave three, the #BSB Shaving Brush and #GTP scuttle. Smooth and close; a BBS- shave.
A nice shave, especially if you're a fan of limes. The soap was neither here nor there while the aftershave did an admirable, if only okay job. The 4711 finished off things with a bang that unfortunately, just doesn't last. No "wow factor" today... But I enjoyed the process!