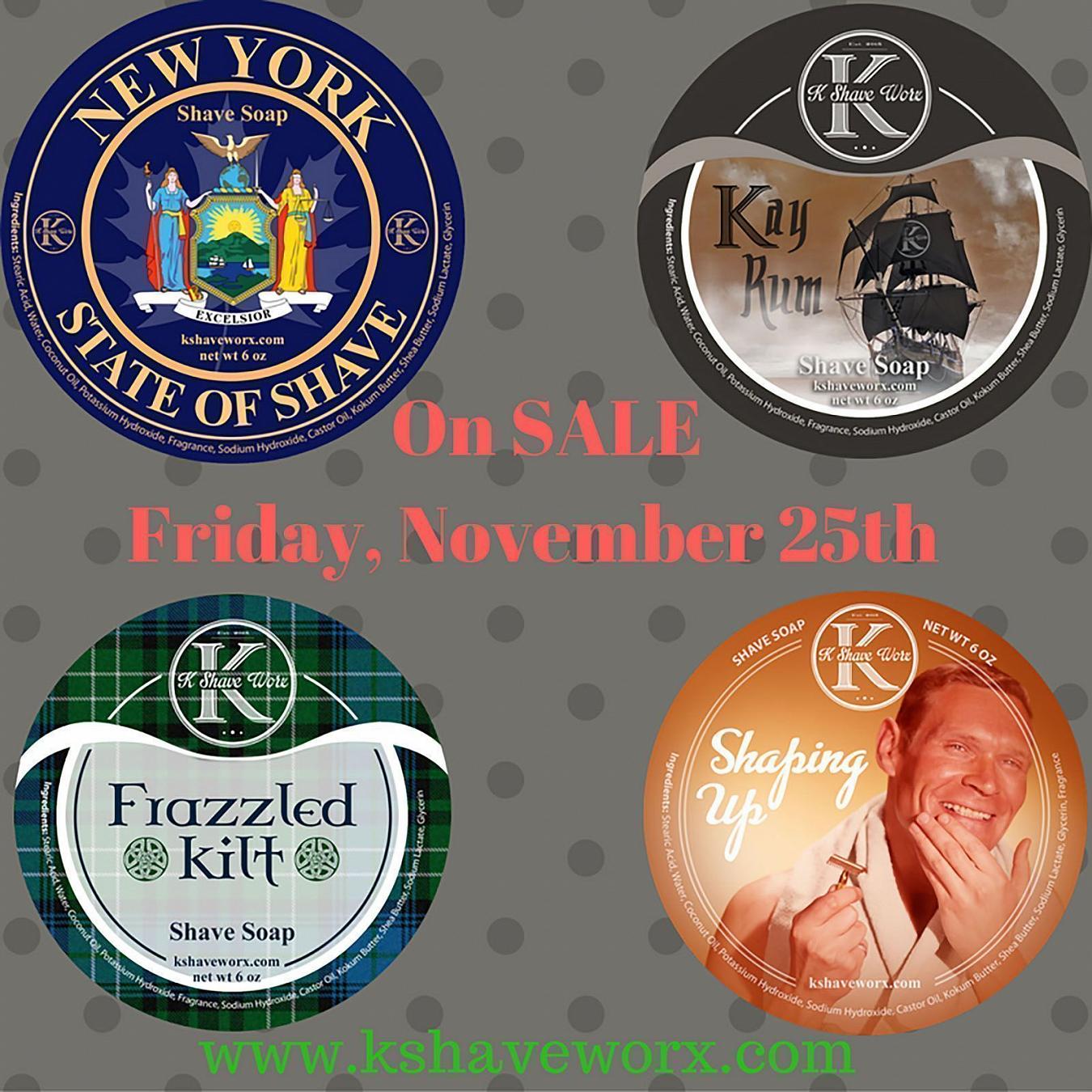 The fine folks at K Shave Worx are burning the midnight oil lately, as evidenced by the recent releases of 366, Black Orchid and their latest, Beachwood Forest. Set to drop next (Black) Friday, November 25th - four new ones are coming... New York State of Shave, Kay Rum, Frazzled Kilt and Shaping Up!
Here are the scents and profiles of these #soap and #aftershave combos from #kshaveworx...
New York State of Shave - An autumnal, maple syrup scent (No matching AS)
Kay Rum - Their own take on the classic bay rum scent
Frazzled Kilt - Their own take on Creed Irish Tweed
Shaping Up - For the fans of Brut! (myself included)
On the various scents...
Shaping Up will be released this Friday. My (Kelly) Dad requested a Brut scented soap so this is our take on that classic scent. Every morning when my Dad gets ready for the day and goes to shave he has always said "I'm going to shape up" so my nieces and nephew said we had to name this soap Shaping Up! When my nieces smelled it- they said it smells just like Grandpa Tony. I love the way a scent can trigger all sorts of memories and this soap makes me think of my Dad. I can't wait to give him this soap for Christmas!!
New York State of Shave is being released this Friday. Kevin is from Marathon, NY and every year they have an annual Maple Festival that Kevin has gone to in the past and his parents volunteer at every year. NY's state tree is the Sugar Maple. This is the reason for this scented soap. NY State of Shave smells like maple syrup with hints of rum and vanilla.
Frazzled Kilt will be released this Friday only at K Shave Worx. Frazzled Kilt is our take on the popular Green Irish Tweed fragrance. This is a great cologne scent. For those of you that don't know much about Kelly - well she LOVES to embrace her Irish heritage. Kelly loves Irish music - the majority of her iPod is filled with Irish tunes from the Saw Doctors, Shilelagh Law and other great Irish bands. So because of her love for all things Irish, Kelly had to add this scent in our lineup!!