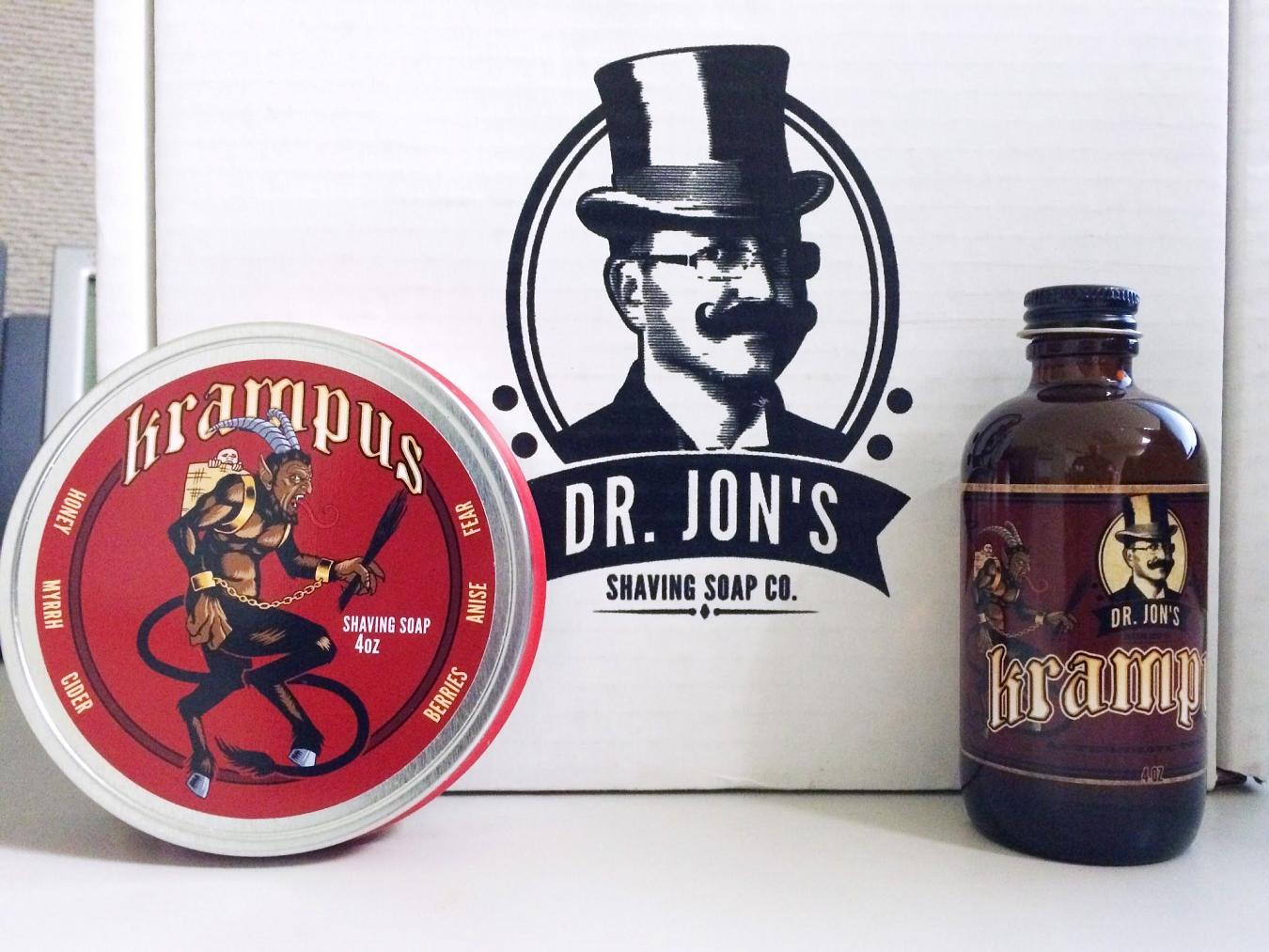 Nothing improves a Monday morning like finding a care package from Dr. Jon's Shaving Soap Co. on your desk in the form of Krampus #soap and #aftershave!
I actually got the package last Wednesday, but I'm a bit behind...
Let's start from the top. First up are the new, custom shipping boxes from #DrJonsSoapCo. These are imprinted on four of the six sides; the main artwork, on top - you can see in the photo. On the sides you'll find the website URL and on the front it says, "The cure for the common shave!" We'd have to agree, being fans of Dr. Jon's wares.
Inside, nestled amongst the packing peanuts - was this lovely soap and aftershave combo known as... KRAMPUS! This is the latest release, a seasonal - and was released on Friday, November 27, 2015. I'm the first to get up close and personal with this bad boy of the holidays. Today I'll do this #MailCall and first impression and tomorrow I'll do a full review - stay tuned!
The soap is contained in the usual tin; 4oz. worth. The custom label lives up to the high standard synonymous with Dr. Jon's and easily ranks among my personal favorites. Being of German descent, I'm no stranger to the alpine lore of Krampus - and featured right in the middle, as large as life - is Krampus himself. The notes in the scent include honey, myrrh, cider, berries, anise and fear. They're listed, as with all Dr. Jon's soaps, around the outside of the label (a very, very nice touch). The consistency is soft, croap-like and typical of the brand. The tin was clearly filled with hot soap and has that lumpy look. It smells incredible - more on this shortly...
The aftershave bottle is also similar to other offerings, again with a custom label. Though it's a bit darker, more mysterious than usual - and not the brighter red of the soap tin. Ingredients include alcohol, witch hazel, rose water, fragrance, glycerin, aloe, alum and menthol. The performance of Dr. Jon's aftershaves is very good indeed, so I look forward to using this tomorrow!
Now, the scent... What does Krampus smell like? Put simply, Krampus smells like the holidays (or is it the other way around?)! A sort of woodsy, spicy, berry vibe... Just like you might expect when surrounded by all the holiday decorations and finery. Visions are evoked of firewood and wooden toys, scented candles on the mantle and a mug of hot spiced cider in your hand - a plate of anise cookies nearby... You even get the cranberries garnishing the tree, and the wreath upon the door. Amazing, absolutely amazing. No need to fear this scent - though Krampus can certainly smell it in children that don't behave!
There it is - Dr. Jon's Krampus in a nutshell! Stay tuned for tomorrow's full review of this holiday awesomeness!
Run, don't walk - get yours here!