Wholly Kaw is set to launch their new, high-end skincare product line in the coming days. The first product to kick it off will be the Anti-aging Skin Serum and will be available August 2018.
The Anti-aging Skin Serum will come in a deluxe new airless pump, contain 30ml of product and retail for $55 USD. This will be a unique product line in addition to their existing shave and aftershave products.
I've been #testing it, along with another new product coming soon - a shaving #cream! It works with a badger or synthetic brush and makes a fine lather for use with any razor or blade. Stay tuned for reviews of both new #WhollyKaw products!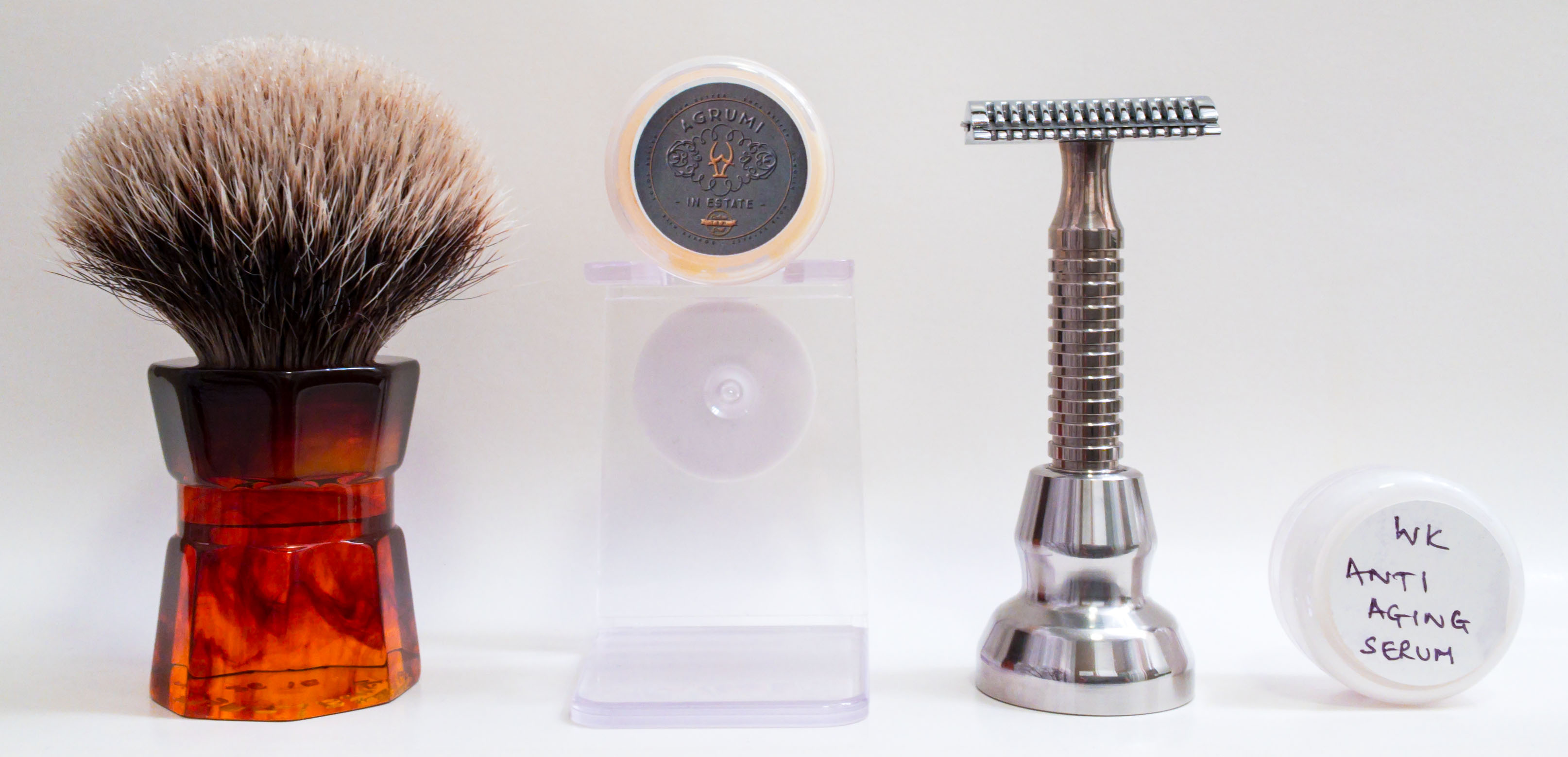 Here is detailed information on the new serum:
Anti-aging Skin Serum
Wholly Kaw is introducing skin serums with advanced actives from botanical sources. The serums are specially formulated to deal with anti-aging, anti-wrinkle, redness reduction, dark circle reduction among other skin issues. These products are developed leveraging skills and expertise from cosmetic chemists, labs and production facilities.
First product on this line is an anti-aging serum with active ingredients that are designed to smooth, hydrate and soften the skin. The unique formulation of oils, donkey milk, botanical actives, and synthetic collagen will defend the skin and targets degraded skin texture, one of the difficult signs of aging and wrinkle formation.
The serum does not contain emulsifiers. Lack of emulsifiers enables addition of more active ingredients and produces a silky, smooth and a non-waxy texture.
Benefits:
Reduce the appearance of signs of aging
Reduce the appearance of wrinkles
Helps in boosting collagen
Increased hydration and reduce water loss from the skin
Leaves skin smooth, toned and hydrated
Key ingredients:
Jojoba Oil, Synthetic Collagen, active ingredients from Turmeric, Japanese cedar buds, Frankincense to defend against aging signs of wrinkles, crow's feet, tear trough and under eye wrinkles.
Full ingredients:
Water, Simmondsia Chinensis (Jojoba) Seed Oil, Caprylic/Capric Triglyceride, Glycerin, Hydrogenated Lecithin, Tocopherol, Benzyl Alcohol, Tetrahydrodiferuloylmethane, Tetrahydrodemethoxydiferuloylmethane, Tetrahydrobisdemethoxydiferuloylmethane, Boswellia Serrata Resin Extract, Cryptomeria Japonica Bud Extract, Butylene Glycol, Xanthan Gum, Potassium Sorbate, Sodium Benzoate
The serum is suitable for all skin types including sensitive skin.
It can be used by men and women.
It does not contain any fragrance or essential oils.
The formulation is developed in a lab and produced in a facility using cGMP compliant manufacturing.
The FDA has not approved the product nor verified its benefits.
Usage instructions:
Apply 5 to 6 drops on the face. It can be used during day time or before bed time.
Frequently Asked Questions
Does the serum have a scent?

No scent is added to the serum nor there are any fragrance or essential oils in the serum.


Does the serum contain emulsifiers?

The serum is an emulsifier free formulation and is developed using patented technology used by leading skin care and cosmetic manufacturers. Emulsifiers in creams and lotions cause the end product to be waxy and heavy. We wanted to get the serum as silky and light as possible In order to impart the special properties of the active ingredients.


So what does the serum contain to hold the "emulsion?"

The formulation uses a hydrogenated soy-based phosphatidylcholine or high quality lecithin fractions. These lecithin fractions are physiologically related to the skin and are therefore biomimetic to the skin. In other words, the human skin would readily accept it. It contains linoleic acid and choline, substances that the human body cannot synthesize on its own and need to be supplemented from external sources. The properties of lecithin allow it to be used in many different formulations, as well as for stabilization purposes.


What is the downside of using emulsifiers?

Emulsifiers by default makes a mixture of two or more liquids that are normally immiscible. Oils and water do not mix as we all know quite well. Emulsifiers are therefore used to get the oils and water in a mixture. Most creams or lotions are formulated using emulsifiers.

The lasting emulsifying capacity of the emulsifiers penetrated into the skin causes an increased transport of skin-own protective substances out of the skin especially when the skin comes in contact with water. This is called the 'wash out' effect from using emulsifiers.

Due to the wash-out effect, creams or lotions with emulsifiers are not effective for barrier disorder skin problems such as atopic dermatitis, psoriasis, dry skin and so on.


What are the active ingredients?

Active ingredients are from curcumin or turmeric, frankincense and Japanese cedar buds. The actives are spelled out using the INCI names in the ingredient listing.


What are tetrahydro compounds?

The trio of active ingredients from turmeric are called tetrahydrocurcuminoids or THC. THC has skin-brightening, anti-inflammatory and antioxidant properties. These are standardized compounds from turmeric and are color-free.


What is so special about Japanese cedar buds?

Japanese Cedar Buds contain a high amount of phytochemicals and skin-stimulating molecules. It also has polyphenols, peptides, sterols, amino acids, sugars and lipidic compounds.


Why is active ingredient from Frankincense added?

Boswellia has a long history of medicinal uses in several cultures. The Boswellia ingredients are highly-refined from a resin from the Frankincense trees. Boswellia is a potent inhibitor of elastase and an excellent ingredient to maintain firm, youthful skin. It has natural anti-inflammatory properties and is shown to improve skin elasticity and visibly reduce wrinkle depth. It is quite suitable for sensitive skin.


What is synthetic collagen?

Synthetic collagen is developed in a lab and is from non-animal sources. This makes it free of diseases, pollution, antibiotics, contaminants, viruses etc as the source is not from animals. Traditionally collagen is produced from bovine or porcine or marine sources.

The collagen used in our serum contains high concentration of glycine and proline, followed by arginine and aspartic acid.


Useful links: