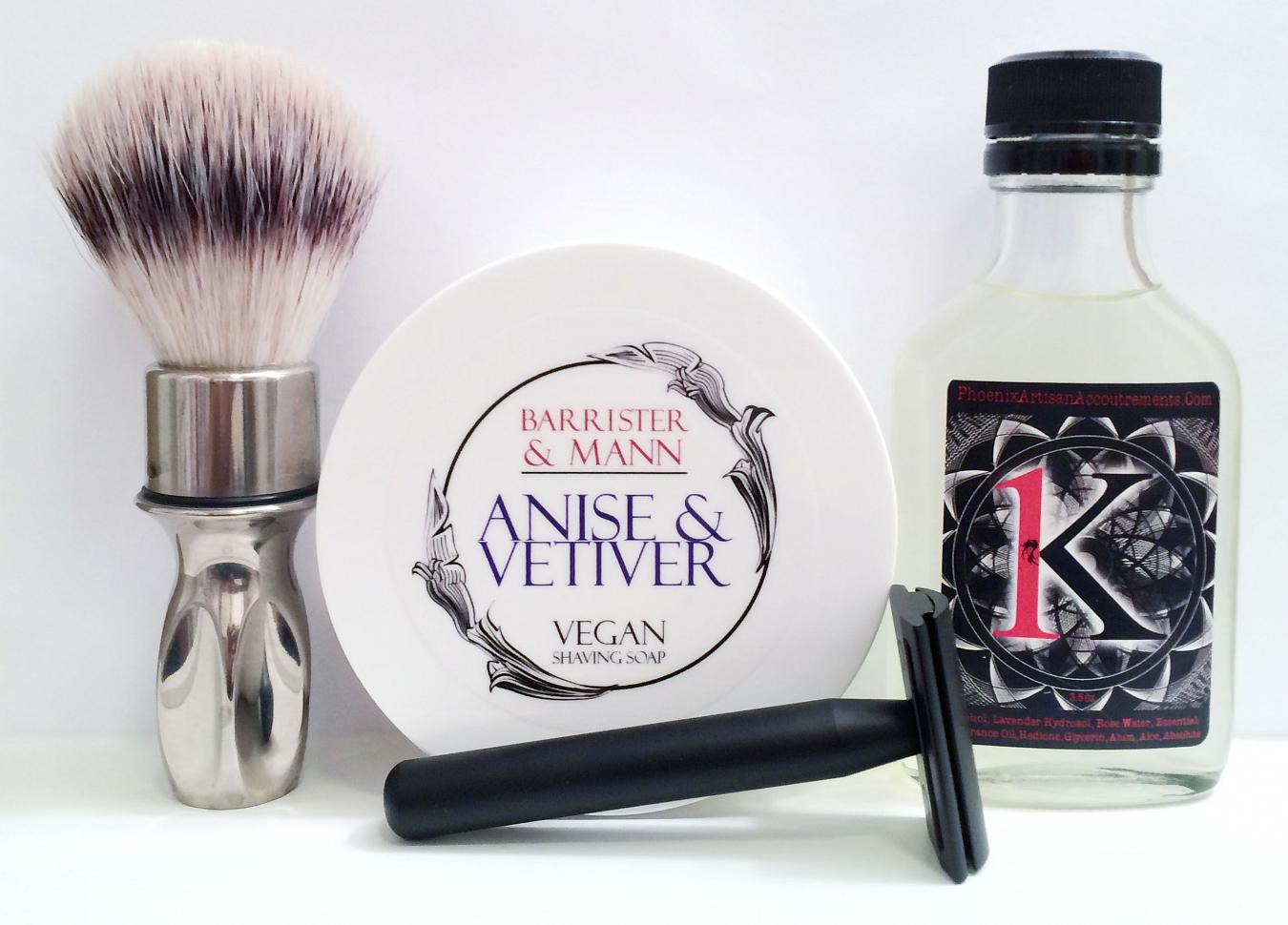 My seventh in a series of SOTD as part of #BarristerWeek where I use a discontinued flavor. Today we have Barrister and Mann Anise & Vetiver #soap and PAA 1K #aftershave!
I won't talk about the lather performance; it's essentially like all #BarristerMann white/black label soaps. Not quite as slick and nourishing as the latest glissant formulation but it's still very much at the top of the food chain. A quick 25-30s of loading and a healthy dose of water nets ample, extraordinarily dense and creamy lather with very good lubricity and face feel. Absolutely no complaints from me on this formulation which - is actually vegan! You'd be hard-pressed to notice a huge difference over the tallow formula; though I do believe it's a touch denser and a smidge slicker. B&M no longer makes the vegan ("Tre-Citta") line of soaps either. So then, let's talk about the real story here - the scent. It was described as:
The famous Robin's Candy Shop in Boston stocks a remarkably dry, rich licorice from Denmark with deliciously tangy undertones. This soap smells rather like that. Sweet, woody, and slightly salty, Anise & Vetiver is one of those soaps that smells so good that you have to stop yourself from tasting the lather. You know, for science.
The scent description pretty much nails it... There are literally only two notes here; (high grade essential oils of) anise and vetiver. The combination however, makes for a bright, distinctly sweet, candy-like scent. In contrast, the 1K offering from #PAA smells more like Sambuca (an Italian liquor flavored with essential oils obtained from anise, star anise, licorice and other spices). Perhaps due to the top notes of anise, beeswax absolute, rose, lavender, lemon, bergamot, mid notes of jasmine, licorice, cedar, pine, patchouli and base notes of amber, dark musk, vanilla bean and vetiver. It doesn't smell nearly as complex as all those notes might suggest; it's pretty much just anise on top. On dry down you get more of the other notes but it all fades after only a short couple of hours, oddly. Combined with the somewhat dry, tight skin feel because of the alum in the aftershave I'd probably take a pass on this one... Though it does match beautifully to the soap as part of a shave.
Hardware today includes something new... My new black Standard Razor! I love the raw color, and when a recent Massdrop came across my path for a black set... I had to pick it up. Though I did actually use the raw colored one for this SOTD (long story) which has a #PolSilver blade on shave three. The #BSB Shaving Brush did the soap justice in the #GTP scuttle.
If you're a fan of Twizzlers or Good & Plenty candy or even Sambuca - then this is the shave for you! Two different takes on the basic anise scent, yet go perfectly together! A sham that the PAA aftershave didn't have better longevity (as most do) here. Either way, as a huge fan of both fake and real licorice, this was a fun shave!