Date:
January 15, 2018 (Monday) 9:00am EST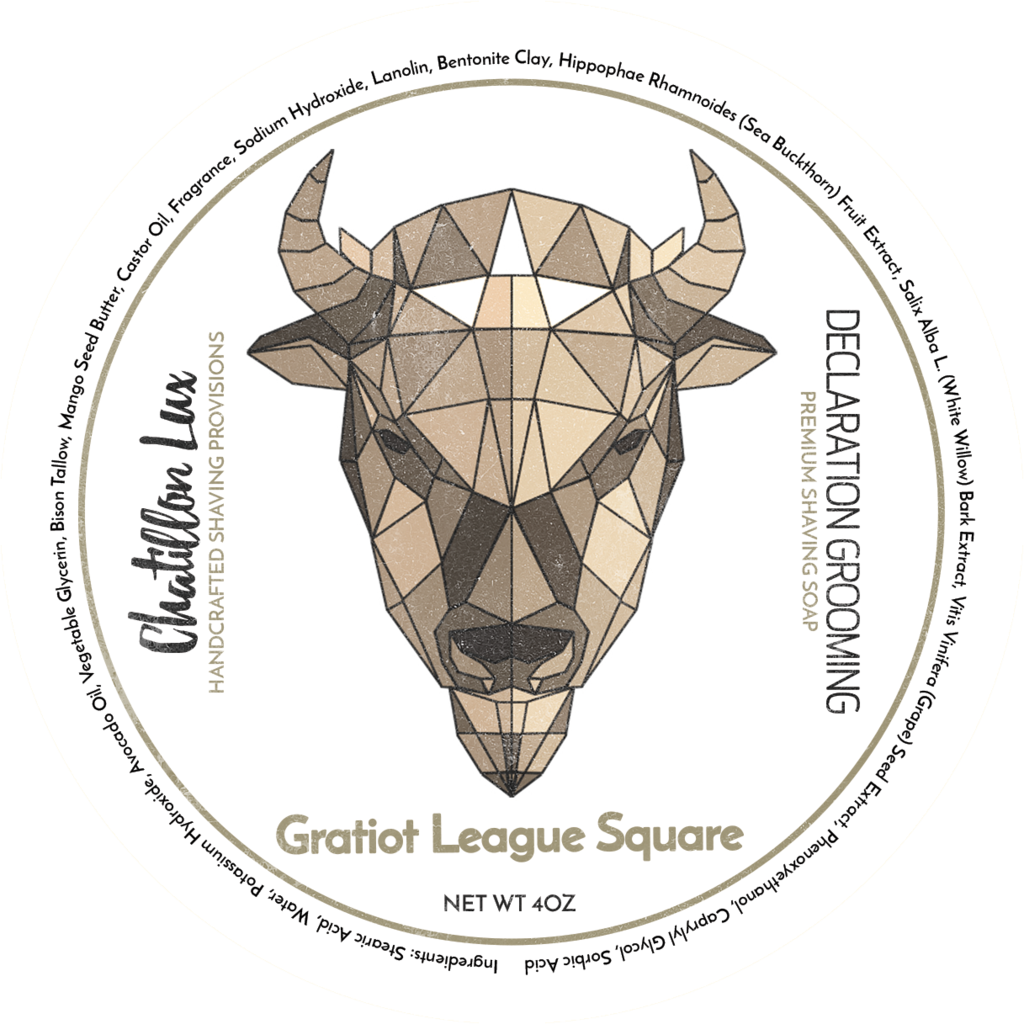 General availability will be on January 15, 2018 at 9am EST.
Matching aftershave splash, toner and salve will be available at Chatillon Lux. Gratiot League Square is a permanent offering while La Quatrieme Ville is seasonal, running to March.
On Gratiot League Square:
In the long and rich history of traders in early Saint Louis, there is one name that often gets looked over when talking about the Choteaus and Lacledes: Charles Gratiot, Sr. Originally a fur trader from Montreal, Charles Gratiot moved to Saint Louis and established a robust trading business in the time of westward exploration.

Eventually marrying into the Choteau family, Gratiot bequeathed a league of land to Saint Louis to encourage its expansion. The Gratiot League Square contains parts of historic Forest Park; Saint Louis' Irish neighborhood, Dogtown, and Italian neighborhood, The Hill; and Chatillon Lux headquarters.

This scent is inspired by Gratiot's trade and features tobacco, leather, rose, clove, nutmeg, sandalwood, vetiver, vanilla, musk, bergamot, and amber. This is the smell of a busy day in the Carondelet markets.
On La Quatrieme Ville:
This scent is seasonal and will be discontinued in late March.

At the advent of the 20th century, Saint Louis was known as the Fourth City. As they prepared to host the 1904 World's Fair, an explosion of arts, culture and commerce took place. Coincidentally, in what was to become Forest Park and Washington University in St. Louis, the Summer Olympics took place that year, as well.

The smell of La Quatrième Ville seeks to recapture that time of refined character and ambitiousness. A refined, masculine smell brings back the bustle of Forest Park during the World's Fair: the woods, attractions and waterfronts are reflected in the vetiver, cypress, incense, nagarmotha, violet leaf, benzoin, and cardamom.